Failed expansion joint caused concrete to fall on Richmond-San Rafael Bridge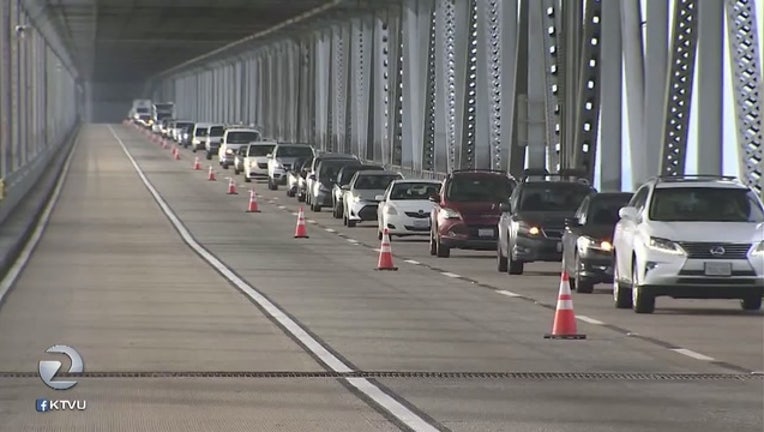 article
RICHMOND, Calif. (KTVU) - By Bay City News Service
The failure of an expansion joint on the upper level of the Richmond-San Rafael Bridge caused concrete to fall to the lower deck of the span Thursday, Caltrans District 4 Director Tony Tavares said Friday at a news conference.
The expansion joints move with temperature changes and vibrations on the bridge, and the one that failed Thursday will be replaced, Tavares said. The joint was inspected with others in August and there was no indication it would fail, Tavares said. 
Caltrans installed a steel plate over the expansion joint after the failure Thursday and work on a permanent fix will begin Monday, Tavares said. The work will be between 9 p.m. and 7 a.m. in order to finish before the morning commute. One lane of the bridge will remain open, Tavares said.
All the expansion joints on five miles of the upper deck will be inspected this weekend, he said.
Caltrans installed plywood on the upper deck under the failed expansion joint to prevent more concrete from falling to the lower, eastbound deck, Tavares said.
"The bridge is safe, the structural integrity is sound and we have no concerns with additional expansion joints at this time," he said.
Friday night and Saturday travelers may experience intermittent lane closures on the bridge as crews install a larger metal plate in place of the one they installed Thursday. 
The Richmond-San Rafael Bridge was closed after a piece of concrete struck a Mercedes Benz on the lower deck around 10:30 a.m. Thursday. Westbound, upper-deck lanes remained open until the entire bridge was shut down around 11:50 a.m. Vehicles were escorted across the bridge and one lane 
in each direction reopened around 3 p.m. 
More concrete fell around 3:45 p.m. when vehicles started crossing the bridge again and the bridge was closed again around 4 p.m. All lanes of the bridge reopened around 8 p.m. Thursday.
The bridge closure caused a traffic nightmare in the North and East Bay.