Family of man slain by BART officer asks DA to complete probe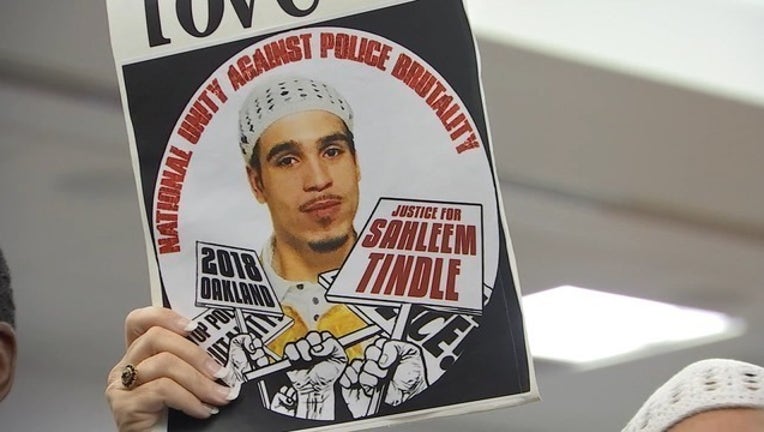 article
OAKLAND (BCN) Family members and supporters of a 28-year-old man who was fatally shot by a BART police officer near the West Oakland BART station in January met with Alameda County District Attorney Nancy O'Malley for at least the third time today.
Yolanda Banks Reed, the mother of Sahleem Tindle, said after the 30-minute meeting that she and other family members are demanding that Officer Joseph Mateu be fired, arrested, criminally charged and convicted.
Tindle was shot and killed by Mateu in the 1400 block of Seventh Street across the street from the West Oakland station at about 4:40 p.m. on Jan. 3.
Banks Reed said O'Malley told her that the shooting is still under investigation and didn't provide any information about when the probe will be completed.
Attorney John Burris, who represents Tindle's family and has filed a claim alleging that BART police violated Tindle's civil rights, said the time period for the investigation isn't exceptionally long compared to other cases in which officers fatally shot suspects.
Burris said some law enforcement agencies delay investigations in hopes that the public's attention will fade but he said he thinks "there's too much public attention" on Tindle's death for that to happen in his case.
Addressing her comments to O'Malley,  who wasn't present at the time, Banks Reed said, "We're not going to wait forever for you to keep putting this off."
Oakland police, who also are investigating the shooting, said  shortly afterward that Tindle was armed while he was grappling with another man on the sidewalk and refused commands  when Mateu shot him.
BART police released a video of the shooting on Feb. 21 but there are different interpretations of what it shows.
BART police Chief Carlos Rojas said at a news conference on Feb. 21 that he believes the video indicates that Tindle didn't have his hands up when Mateu shot him three times and that Tindle didn't raise his hands until after he was shot.
Rojas also said he thinks the video indicates that the hands of the man who Tindle was struggling with were empty, which he believes shows that the man hadn't possessed a gun.
But Banks Reed said today that she believes the video shows that Sahleem's back was turned away from the man he'd been grappling with and that Mateu shot him in the back.
Mateu initially was placed on paid administrative leave but was cleared to return to work two weeks after the shooting.
Burris said Tindle's family is upset that Mateu is still eligible for a promotion despite the controversy over his actions. 
Burris said O'Malley told Tindle's family and him that she has seen the video of the shooting but gave no opinion as to what it represents in terms of factual analysis and indicated it's only one element of the investigation.
Burris said O'Malley has hired expert witnesses to review the video and look at it in slow motion and to examine other evidence, such as the guns and bullets that were used in the shooting.