Florida man wins $1M on scratch-off lotto ticket after being cut in line at Publix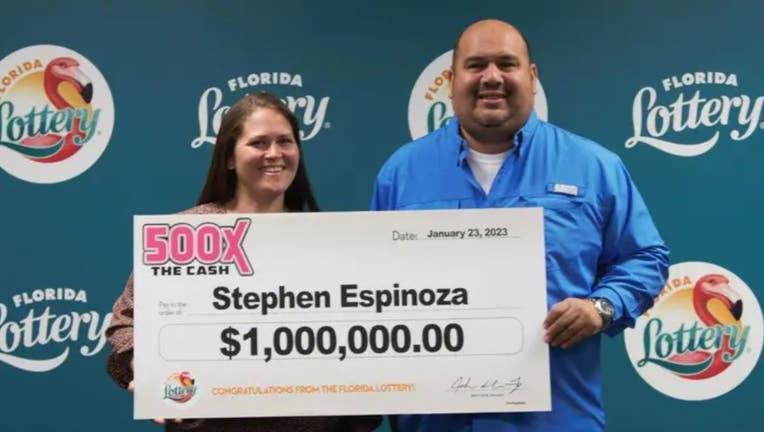 article
DELRAY BEACH, Fla. - A Florida man looking for luck found it last week when a cut in line resulted in a winning million-dollar lottery ticket.
According to the Florida Lottery, Stephen Espinoza, 43, went to the Publix grocery store on Northeast 5th Avenue in Delray Beach to buy a lottery ticket after a bad day when he got to the machine to purchase a scratch-off, another man cut in front of him.
"Instead of saying something, I decided I'd just buy a ticket at the counter," Espinoza told the outlet.
He walked to the counter and chose a ticket from the $50 "500X The Cash" game, which launched in February 2022 and has a top prize of $25 million. The ticket was a winner, and Espinoza walked away with one of the game's $1 million prizes.
WINNING MEGA MILLIONS $1.35B JACKPOT TICKET SOLD AT THIS GAS STATION IN LEBANON, MAINE
Espinoza said he couldn't believe it. He traveled to the Lottery headquarters in Tallahassee to claim his prize and chose to bring home the bacon in a one-time lump sum of $820,000. 
He said he and his wife plan on using the money to buy a home for their family.
The Florida lottery says the $25 million top prize in the "500X The Cash" game is the largest top prize ever offered on a scratch-off game in the state. The game also offers the best odds to become a millionaire.
One of the two $25 million top prizes remains up for grabs.
LOTTERY WINS OF 2022: A LOOK BACK AT PEOPLE 'HITTING THE JACKPOT'
After Espinoza's win, there are 42 million-dollar prizes left out of the 160 that were available. There are also 77 out of 300 $50,000 prizes remaining.
The overall odds of winning any prize are 1 in 4.5.
The Publix location will receive a $2,000 bonus for selling the winning ticket.