Former Cal star Alex Morgan soars in whirlwind between World Cups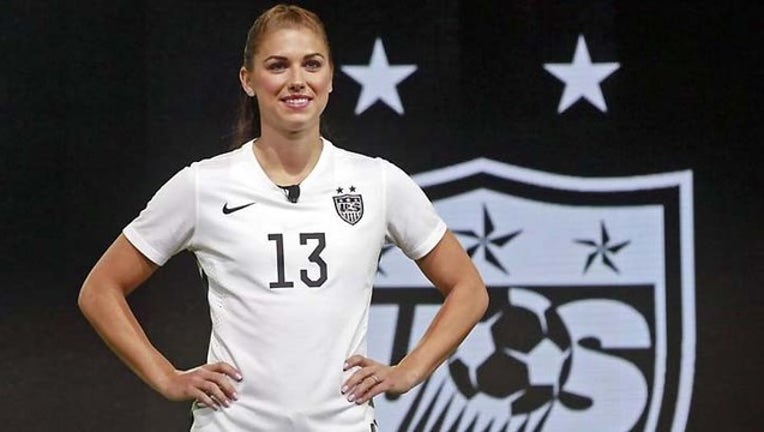 article
The past four years have been a whirlwind for the 24-year-old striker.

She became the first American player with both a goal and an assist in a final during the United States' loss to Japan in the World Cup and was fully established as a starter by the next summer when the London Olympics rolled around.

She scored an extra-time game-winner in a semifinal against Canada that sent the U.S. into the final against Japan in London and an eventual Olympic gold medal.

While her ascent may appear quick, Morgan believes it was just part of her career's progression.

"I've had a couple of injuries in between the Olympics and now, but I feel like for me, it's almost been building blocks, it's never been like I've been thrown into something all of the sudden," she said. "I feel like I've had a good amount of time to prepare and realize what I've been getting into."

Morgan was considered a rising star even before Germany.

She was the leading scorer in each of her four years at California from 2007-10, and she even graduated a semester early with a degree in political economy. Her 45 career goals tie her for third on the university's all-time list.

She grabbed international attention in 2008 when she scored the winning goal for the U.S. in the U-20 World Cup final against North Korea.

Morgan has struggled with a few inopportune injures over the past year and a half. Late in 2013 she injured her left ankle during training camp, then injured it again during the group stage of CONCACAF qualifying last fall.

"That was probably the hardest thing about being injured, that I wanted nothing more than to be on the field and to help my team succeed on the field and win. But you feel helpless in a way," she said.
Morgan is sitting out a send-off tour for the United States as it makes its final preparations for the World Cup in Canada next month. She has what she calls a minor bone bruise in her left knee, and no one is taking any chances with her readiness.

Coach Jill Ellis said Morgan is too important to the team.

"She kind of came on as a super sub and now she's established herself as a starter, an integral part of our team. I think she's taken on more responsibility, more of a leadership role," Ellis said.

To date, Morgan has 51 goals and 32 assists in 84 international appearances. Earlier this year in a 1-0 victory over England, she scored in her 79th international match to become the third-fastest American woman to reach the 50-goal mark behind Michelle Akers (49 games) and Abby Wambach (64).

Morgan will miss Sunday's match in Carson, California, against Mexico, and she could miss the final send-off match against South Korea in New Jersey on May 30. The U.S. opens the World Cup on June 8 against Australia in Winnipeg, Manitoba.

Given how she's looked recently, there's no need to be concerned about the layoff. She is certainly at the level she needs to be for the competition, said Paul Riley, coach of Morgan's NWSL team, the Portland Thorns.

Morgan was with the Thorns for about two weeks and played in one match before leaving for training camp with the U.S. team.

"She looked brilliant in practice," Riley said. "It's the best I've ever seen her."

Off the field, Morgan is a newlywed. On New Year's Eve she married her longtime boyfriend Servando Carrasco, a midfielder for Major League Soccer's Sporting KC and a fellow California graduate.

All told, Morgan is in a good place — despite the pesky knee bruise — and ready to prove herself on soccer's biggest stage.

"Being on the national team, we're in a lot of pressure moments, and I think we do well with those pressure moments. You can just see from the World Cup and the Olympics, it's almost like I was born into this culture that strives off this pressure. And I think we've done well with that," she said. "I think there's another level for myself. That's why I'm so excited for this year, because I think I'll see that, and I'll be able to show people that."