Former UC Davis student accused of deadly stabbings
DAVIS, Calif. - A former University of California, Davis student was arrested for allegedly unleashing a series of stabbing attacks that left two people dead and a third person hurt.
Davis Police Chief Darren Pytel identified the suspect as 21-year-old Carlos Reales Dominguez. Dominguez was enrolled at UC Davis up until last week, the chief said.
The university confirmed that Dominguez was in his third year at the school until April 25 when he was "separated for academic reasons."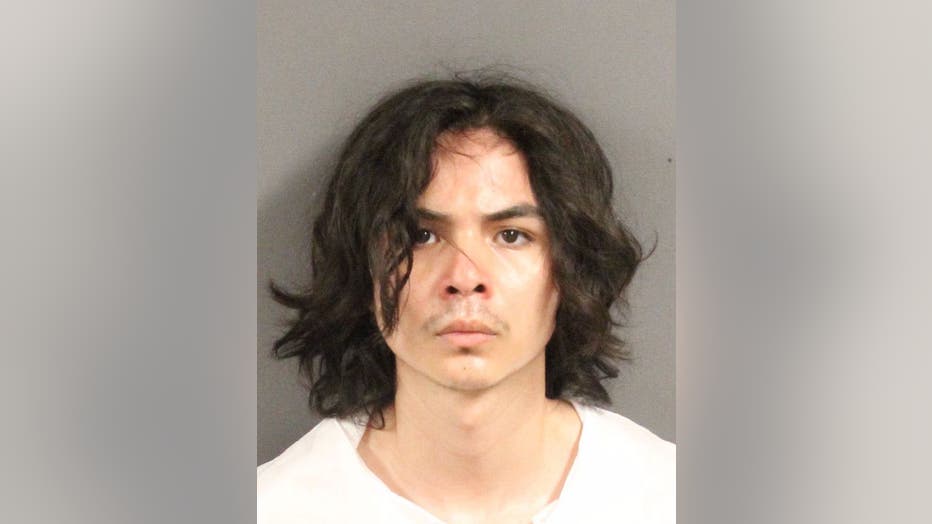 Carlos Dominguez, 21, was taken into custody Wednesday in connection with a series of stabbings in Davis California.
Police officers detained Dominguez at a park on Wednesday that was the site of the second deadly attack, Pytel said. Tipsters called police saying they had seen someone in the park who matched earlier descriptions of the attacker. 
Dominguez had a knife in his backpack, Pytel said.
Dominguez is jailed in Yolo County. The district attorney's office confirmed the suspect is from Oakland and was a previous student at Laney College.
"These crimes were horrific. They are hard to imagine. They struck fear in the community," the chief said.
"A murderer is off the streets and our community will sleep easier tonight," said Davis Mayor Will Arnold.
The first stabbing victim was found April 27, when officers found David Henry Breaux, 50, in the downtown Central Park, hunched over a bench where he often sat or slept.
The second victim, Karim Abou Najm, was a UC Davis student found Saturday night at Sycamore Park with multiple stab wounds.
A homeless woman who is in her 60s was the victim of Monday's stabbing. She was stabbed multiple times through a tent, police said.
An Oakland Story Bank article profiled Dominguez back when he was a student at Castlemont High School. In the article, he described his dreams of becoming a doctor one day to help the community.
"These horrific crimes have resulted in immeasurable loss to the victim's families and friends and to our community. But as we move forward together, demonstrates Davis has compassion a deep sense of community when faced with tragedy," said Pytel.
 Dominguez could be arraigned as early as Monday.
 Also on Monday, evening classes go back to in-person. They were moved online for safety reasons while police were searching for a suspect.
Authorities have not disclosed a motive for the stabbing attacks.