Formerly homeless Berkeley Law student helps homeless man enroll in school, secure housing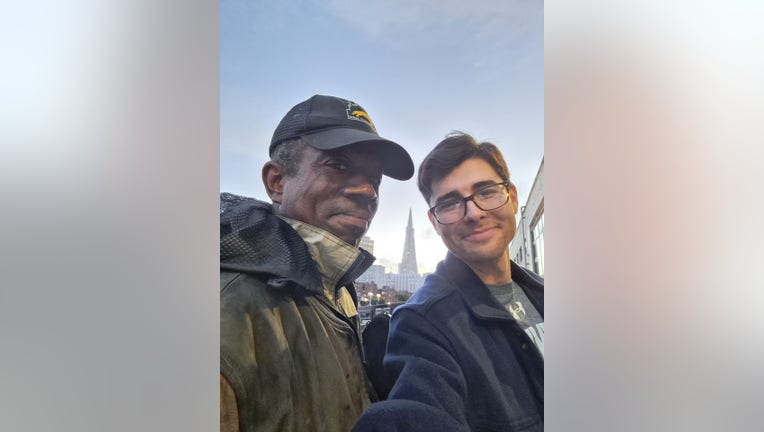 article
BERKELEY, Calif. - He was formerly homeless and now, as a Berkeley Law student, Anthony Carrasco has been using his past experiences, his research, and his heart to try and make a difference in the lives of those unhoused, as he once was.
Last month, Carrasco was recognized as one of the runners-up being celebrated as part of the Chris Kindness Award, a grassroots initiative that was started by UC Berkeley political science professor Alan Ross to highlight individuals in his city who have engaged in acts of kindness. (The winner of the award was Berkeley resident Chris Little for his simple but thoughtful actions to help people in their every day lives.)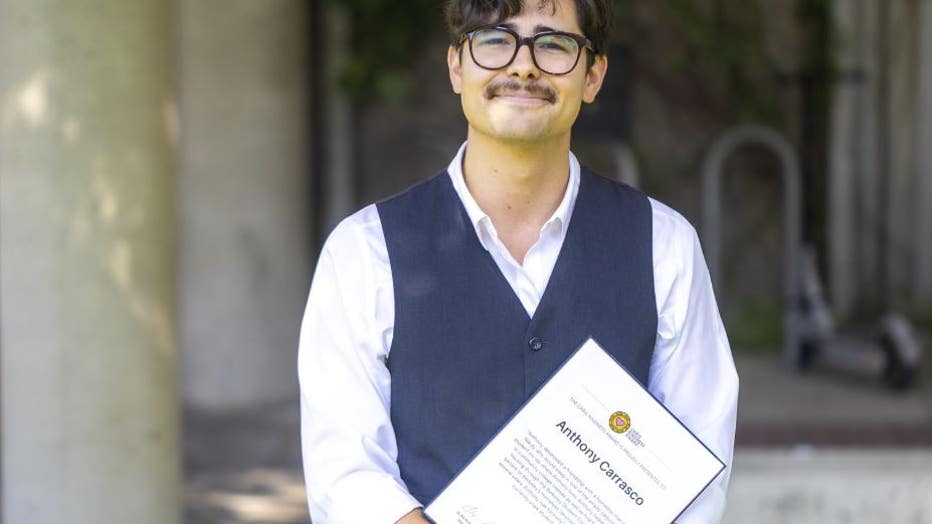 Berkeley Law student being honored as runner-up as part of the Chris Kindness Award on in Berkeley, Calif. on Sept. 20, 2023, (Chris Kindness Award / Terri Chytrowski)
The initiative was designed to bring attention to people like Little and Carrasco who were making a difference in their community through acts of service to others, both big and small. 
The person who nominated the law student shared, "Anthony developed a friendship with a homeless man named Nardy… Anthony helped Nardy enroll in community college classes as well as find fully subsidized housing through the Berkeley Student Cooperative."
SEE ALSO: Alameda County supes authorize homeless state of emergency
Carrasco, who grew up homeless, told KTVU that he couldn't have predicted the events that brought Lenord Andrus, who goes by "Nardy," into his life last year. 
He first came upon the man when he found that he had taken shelter behind a car in the carport of his student co-op complex.
"I went over to see how I could help," Carrasco shared, adding, "And we developed a very meaningful friendship." 
The 27-year-old student said that he made a point to offer his new friend assistance in any way he could. 
He said he didn't want to tell him what to do. Rather he felt his purpose was to provide resources to support him, from helping him learn about enrolling in community college and applying for student aid, to the basics, like setting him up with email.
Carrasco explained that his 58-year-old friend had been previously incarcerated, and while behind bars, had missed opportunities to get online and learn about using electronic communication. 
"He had very little grasp of email at all, so we worked together on a number of issues that he wanted to work on, like getting an email address, getting an ID. All the things he wanted to do, but he didn't know how to do them. I was helping him read, write, and interpret," Carrasco said, adding proudly, "And now he's a full-time community college student with housing."
With his help, Andrus got off the streets and began attending Berkeley City College while taking additional courses at Laney College in Oakland.  
It's a relationship Carrasco cherished.
"The friendship I've been able to develop with him is really invaluable to me," Carrasco shared, noting he invites Andrus over for dinner at least once a month, so he can keep up with his life and his newfound accomplishments.  
The bond has been one that Carrasco said he's found to be fulfilling, from the standpoint of someone who knew what it was like to be homeless from a young age.
Growing up in Southern California, for years, his family lived in a motel in Santa Ana in Orange County.
It was adjacent to a freeway and his family lived among others in need of long-term housing. "There were formerly incarcerated people, sex workers and families like mine," Carrasco shared.   
Both parents worked full-time, but they could not afford permanent housing for the family.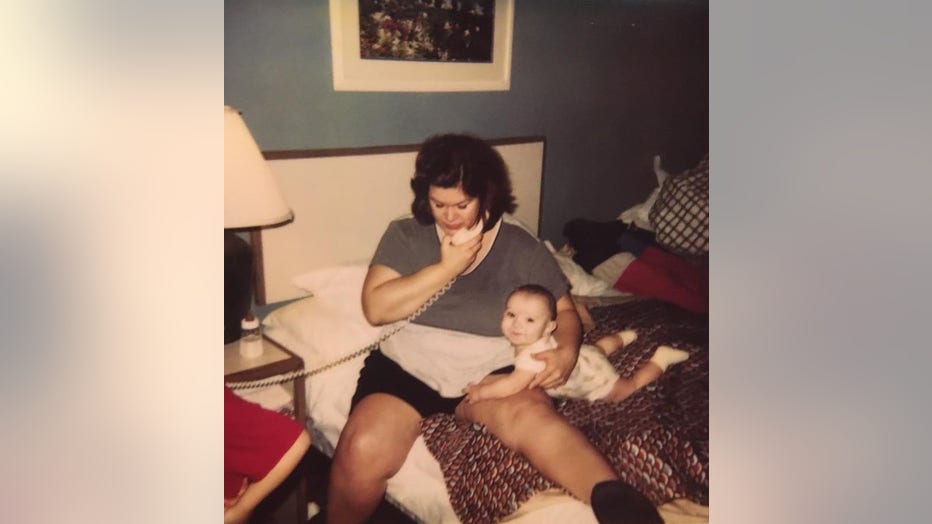 Anthony Carrasco's mother, Kimberly Carrasco, and his younger brother Desi Carrasco in the motel where the family lived, in Santa Ana, Calif. taken some time in 2001. (Anthony Carrasco)
"In the one room, two parents-- my father who was working in construction and my mother, a baker," he explained, "with three children: me and my two younger brothers."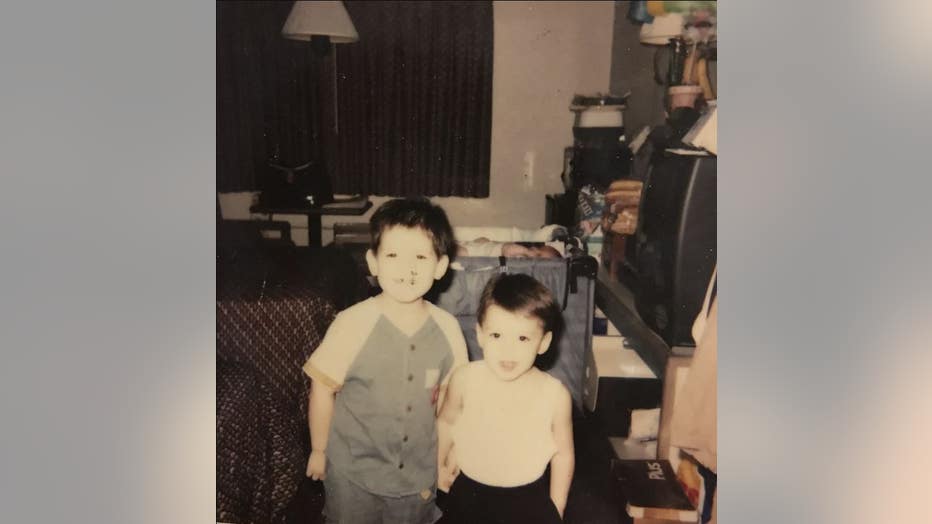 Old family photo of Anthony Carrasco (left) and his brother Paul Carrasco, with younger brother Desi Carrasco in a crib behind them at the Red Roof Inn, a motel he and his family lived in Santa Ana, Calif. Photo taken some time in 2000.  (Anthony Carrasco)
Over the years, there were other motels his family would check into, and there were some months they lived out of vehicles.
But their lives took an indelible turn, when his grandmother, who also helped care for him and his siblings, got ill.
"She developed stomach cancer when I was about 8 or 9 years old," Carrasco explained. "She died 6 months of diagnosis."
And at the end of her life, she had one dying wish: "She told my mom she did not want her grandkids living in a motel. When she left, she left my mom all of her life savings," Carrasco recalled.
He said his grandmother's life savings amounted to only about $15,000. But it was enough to set in motion a series of events that changed everything. 
"With the infusion of $15,000 we got a moving truck and moved up north, where housing was cheaper in a rural area," he said. 
It was a challenge for his parents to find work, and the money went quickly, but ultimately the family settled in French Gulch, in Shasta County, where they found a three-bedroom apartment for $800 a month.
Carrasco was around 17 years old when he eventually ended up in Chico, where took classes at community college and then graduated from high school. His success in academics was what brought him to the Bay Area, when he got accepted to the University of California, Berkeley.
SEE ALSO: California has the top two best public universities in the country, according to new rankings
It was as an undergrad at Cal he had his first big foray into getting involved in work to help prevent homelessness.
He was elected into the student senate, where he authored and helped pass university legislation to create a housing security subsidy. 
The legislation allowed the university to raise funds to pay for security deposits for low income students in need of housing, many of whom faced homelessness after being evicted.
"It became an anti-homeless policy," Carrasco explained. 
Carrasco also became a member of the city of Berkeley's Youth Commission, advising the mayor on youth services policies, and in 2018, he helped establish the city's first homeless youth policy. 
It was also in 2018, he became the first one in his family to earn a college degree and graduated with highest honors from UC Berkeley with a double major in political science and legal studies.
Among his other accomplishments at Berkeley, he was named a recipient of the Ronald E. McNair scholarship, a prestigious and highly selective program geared toward underrepresented and/or first-generation low-income college students. Carrasco used the opportunity to conduct research on homelessness in the Bay Area. 
In a UC Berkeley publication, Carrasco was quoted as saying, "It was the first opportunity I had where I turned my lived experiences which had always been a drawback, a place of challenges and obstacles, into something productive, important, supportive, and restorative."
His work in homeless advocacy has been expansive, including serving on the board of the city of Berkeley's Homeless Services Panel of Experts, a panel of which he was a founding member, and working with non-profits supporting homeless residents in the Bay Area including "Compass Family Services" and "All Home." 
He's now in his third year in a seven-year program at the UC Berkeley School of Law where he's earning dual Juris Doctor (JD) and Doctor of Philosophy (Ph.D.) degrees.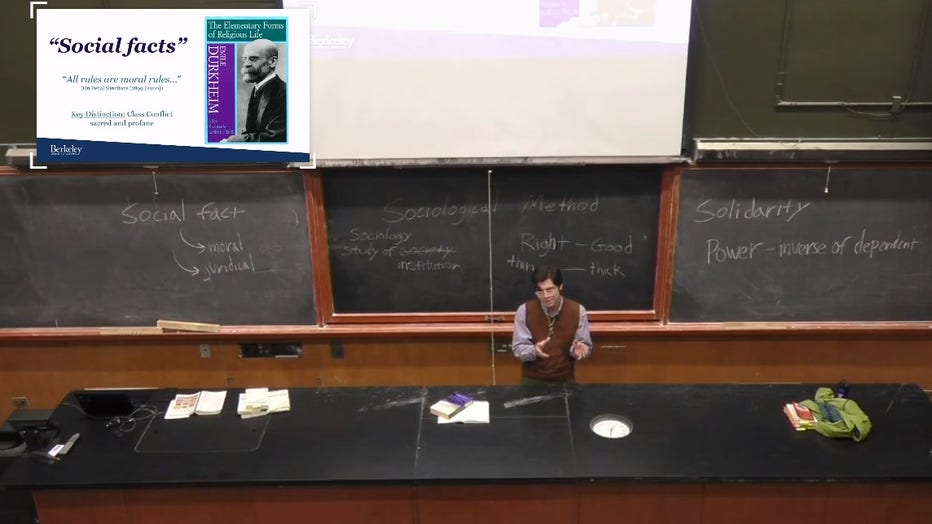 Anthony Carrasco giving a guest lecture on April 6, 2022 at UC Berkeley for the Legal Studies / Political Science Theories of Justice course taught by Professor Christopher Kutz. 
It's his experience from his past that has brought him to focus his research on evidence-based solutions to homelessness, specifically working on issues involving families with children.
"Family issues have very unique needs. They also take resources differently," Carrasco explained. "I want to find a very concise way to give information to local governments that can show them how to spend money that reduces homelessness permanently." 
The post graduate student said that his experiences as a child were at the core of what drove him, noting the prevalence of mental health issues for young people who have lived unhoused.
"There is no data to show how frequently a child loses housing," Carrasco explained. "I was evicted as a child, and I know it had a very negative impact on me, psychologically, emotionally and physically."
He also shared that it was his experiences that offered him a unique approach toward finding solutions. 
"Growing up, I did experience a lot of abuse from a lot of different places. But what that's left me with is a perspective to look at things differently and ask questions that haven't been asked," he shared adding, "Those questions really come from a place of trauma." 
It's because of his past, he's committed to bringing about change, and he said that his work was fueled by not only his desire to process his trauma but to stop the cycle to prevent other children from growing up as he did. 
"It's cruel and it's unusual, and I don't think our society should have any place for it," Carrasco stressed, adding, "I can't rewrite history, I can't undo time, but if I can work on this with my all, then it makes it much more bearable, and it helps me to keep going."
It's also pain from his more recent past that has made his relationship with "Nardy" even that much more meaningful to him. 
Carrasco shared that near the end of his undergraduate, his uncle, who was homeless in Los Angeles, died on the streets. "Nardy" walked into his life when he was trying to make sense of it all. 
"I know that homelessness kills. And I can't help but feel guilty about what happened to my uncle," Carrasco shared. "I couldn't have predicted how I encountered Nardy. He was right there in my backyard. I feel like this has been a very important way for me to process the loss of my uncle." 
While it's been a bond of service as he's been able to help his friend get off the streets and go back to school, Carrasco said he has also benefited greatly, and the service has gone both ways. 
"I consider him a gift to my life," he said, "a gift that keeps on getting exchanged… his willingness to befriend me, his willingness to have me, and accept [help], that's certainly a huge generosity on his part."
And it's another gift, one from his long ago past, that Carrasco has held close every step of the way so far: the gift of his grandmother as he credited her for that one huge act of kindness and love at the end of her life that provided a new beginning for him. 
"It was the loss of my grandmother that allowed us to get out of homelessness," Carrasco reflected. 
When asked what she would say if she were alive to see him today, after a long emotional pause, the law student and anti-homeless crusader said, "I'd just want her to say she was proud of me."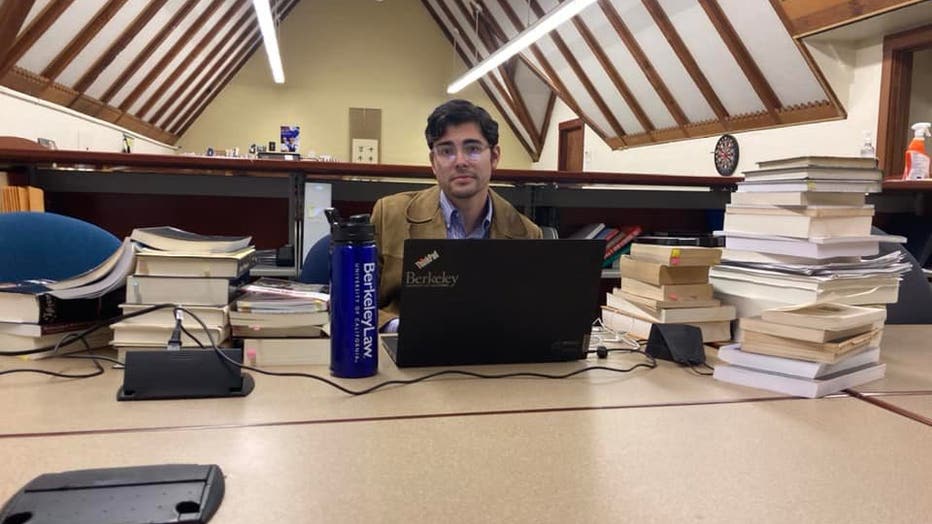 Anthony Carrasco in the graduate student study space at the Center for the Study of Law in and Society in Berkeley, Calif. in January 2022.  (Anthony Carrasco)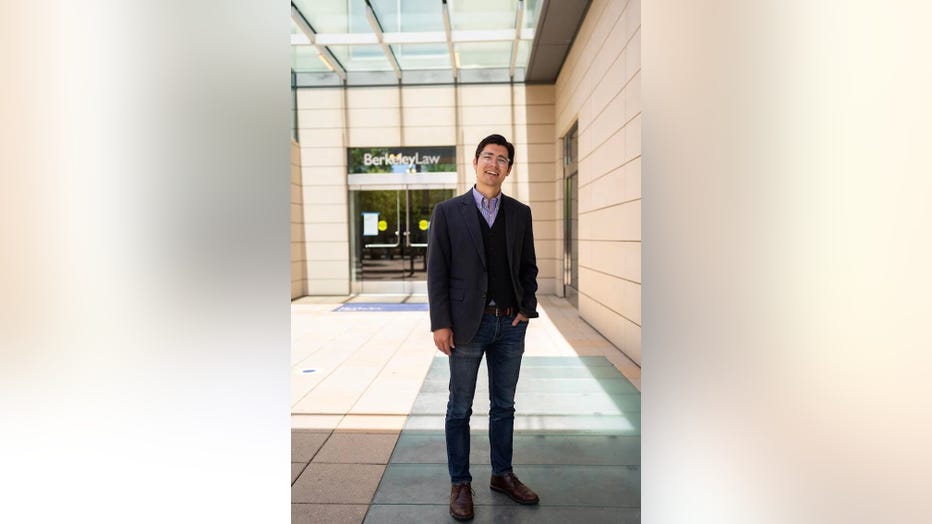 Formerly homeless Berkeley Law student Anthony Carrasco has been fueled by his past to work toward establishing meaningful anti-homeless policies in the Bay Area.  (Anthony Carrasco)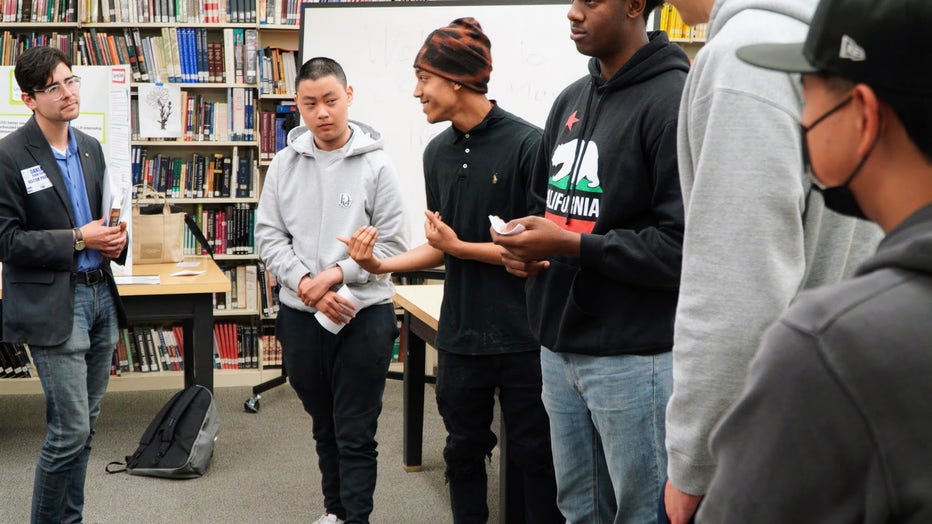 Anthony Carrasco working with students at Oakland High School on policy proposals aimed at addressing student homelessness in Oakland, Calif. on May 2, 2023.  (Anthony Carrasco)