Franklin Graham attacks Pete Buttigieg for calling himself a 'gay Christian'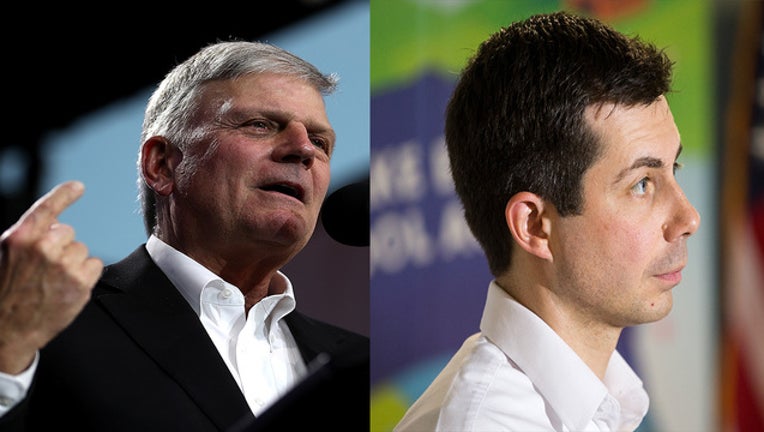 article
(FOX 46 CHARLOTTE) - Christian evangelist Franklin Graham has taken issue with South Bend, Indiana Mayor Pete Buttigieg after the presidential hopeful identified as a "gay Christian."
"Mayor Buttigieg says he's a gay Christian. As a Christian, I believe the Bible which defines homosexuality as a sin, something to be repentant of, not something to be flaunted, praised or politicized. The Bible says marriage is between a man & a woman – not two men, not two women," Graham tweeted Wednesday.
Graham, son of the late Billy Graham, began his attack by referring to Buttigieg's comments at a CNN town hall Monday, where the mayor said "God does not have a political party."
"It can be challenging to be a person of faith who's also part of the LGBTQ community and yet, to me, the core of faith is regard for one another," Buttigieg said. "And part of God's love is experienced, according to my faith tradition, is in the way that we support one another and, in particular, support the least among us."
Graham responded by saying, "[Mayor Pete Buttigieg] is right—God doesn't have a political party. But God does have commandments, laws & standards He gives us to live by."
The Evangelical leader became a trending topic on social media as Twitter users debated his stance on Buttigieg. 
Buttigieg did not immediatly respond to Graham's tweets.
This story was reported on from Charlotte, N.C.