Freeway Shootings: East Bay mayors and state officials discuss highway cameras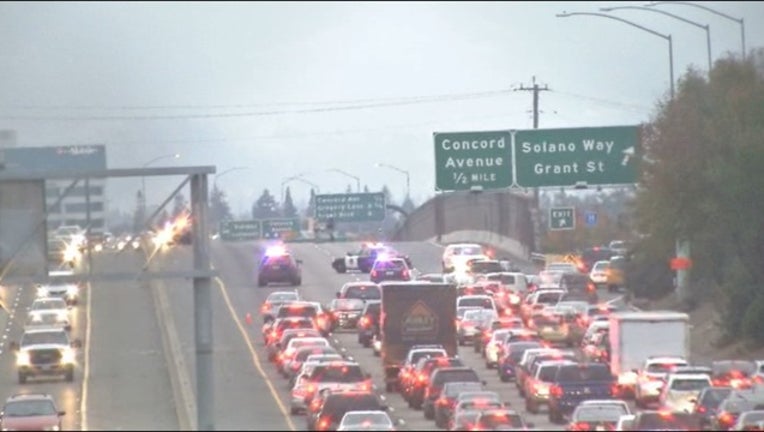 article
SACRAMENTO, Calif. (KTVU, BCN) - Mayors from Contra Costa County are meeting with state officials in Sacramento on Monday to discuss installing freeway cameras following more than 20 shootings on East Bay freeways in recent months.
California State Transportation Agency Secretary Brian Kelly is meeting with the group of mayors, along with officials from Caltrans as well as the California Highway Patrol, according to CSTA spokeswoman Melissa Figueroa.
A list of the mayors participating in the meeting was not immediately available.
Since November, more than 20 shootings have occurred along Interstate 80 and state Highway 4 and have resulted in four deaths, multiple injuries.
Last month, Richmond Mayor Tom Butt, Hercules Mayor Dan Romero, Pinole Mayor Roy Swearingen, San Pablo Mayor Richard Kinney and El Cerrito Mayor Greg Lyman sent a letter to Gov. Jerry Brown asking him to support the installation of cameras on local highways.
In response to the letter, Contra Costa County District Attorney Mark Peterson said his office was exploring the idea of installing cameras on Highway 80 and Highway 4.
The district attorney's office is working with the CHP, Caltrans and local law enforcement agencies to develop a plan for installing high-resolution pan-tilt, zoom cameras, as well as installing ShotSpotter gunshot detection technology and license plate readers on the highways and on- and off-ramps, according to Peterson.
Also last month, the Pittsburg City Council approved installing surveillance cameras throughout a four-mile stretch of Highway 4.