Future of Santa Clara Convention Center is unclear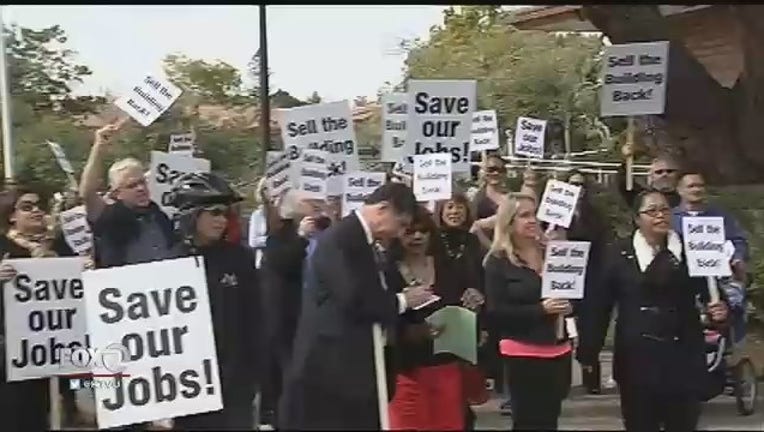 article
SANTA CLARA, Calif. (KTVU) – The Santa Clara Convention Center is the state's second largest convention center and provides hundreds of jobs – yet its future is up in the air. The convention center could even be put up for sale.
The Santa Clara Convention Center has long been known as one of the premier event spots in the South Bay.
This week, Hillary Clinton was a keynote speaker at a conference held there.
For Augie Reyes - who's the director of event services for the convention center - it's home.
"It means a lot to us," said Reyes. "Our jobs, our families and when you're with a place for 27 years, it's our home. It's our second home."
However, his job and at least 200 others are in question.
He and other employees and supporters rallied at Santa Clara City Hall.
Right now, the City of Santa Clara owns the convention center and used state redevelopment agency money to fund it.
Since the governor got rid of that funding, properties like the convention center must be turned over to the state and come April, be sold to the highest bidder.
"The city has offered a reasonable package and they have not responded to it," said Steve Van Dorn of the Santa Clara Chamber of Commerce.
What complicates things is that it's prime real estate since it sits across from the 49ers home of Levi's Stadium - especially with Super Bowl 50 next year.
An oversight board oversees the sale for the state. Don Gage is chair of the board.
"The city wants us to give it to them," said Gage. "That's $500 million worth of property they say has no value."
He said the board will have to consider all options and say if a hotel company or a private investor shows interest.
While no decisions will be made overnight, the workers say they won't stop fighting until they know their jobs are saved.
"It's very unsettling," said Reyes. "I hope they can come make things work for our families and all the people who provide for the city of Santa Clara."