Germany: 1 dead, 3 wounded in stabbing at train station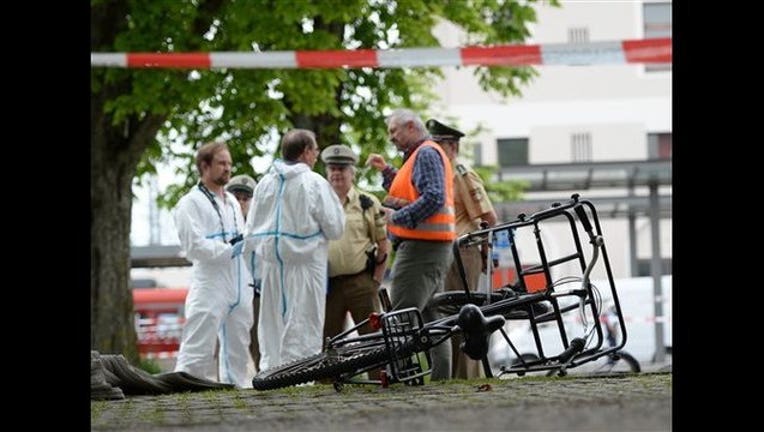 article
GRAFING, Germany (AP) — A German man was arrested after several people were stabbed at a train station near Munich early Tuesday, authorities said. One victim died in a hospital and three other people were wounded.
The assailant made "politically motivated comments" as he attacked, Ken Heidenreich, spokesman for the Munich prosecutor's office in charge of the case, told The Associated Press. He said his office was investigating witness reports that he yelled "Allahu akbar," Arabic for "God is great."
However, Bavaria's top security official later said investigators had no indication so far that the suspect in the attack at the Grafing Bahnhof station, around 30 kilometers (nearly 20 miles) east of Munich, had an Islamic extremist motive.
Interior Minister Joachim Herrmann said the suspect apparently had psychological problems and drug issues, news agency dpa reported.
Heidenreich said that the suspect is a 27-year-old German citizen, with a German-sounding name.
"We have no information that he is a recent immigrant here or of that background, but we don't know for sure at the moment," he said, adding that the man didn't live in Bavaria.
The attack comes at a sensitive time in Germany after the influx of around 1.1 million migrants last year and growing concerns about how the country will deal with them, particularly in Bavaria, their usual state of entry.
The suspect attacked several people with a 10-centimeter (four-inch) knife shortly before 5 a.m. (0300 GMT), police said.
Police spokesman Irwin Heumann said the 56-year-old victim who died — his age was initially given by authorities as 50 — was attacked aboard the train. He said it wasn't yet clear where the three wounded victims were assaulted.
The other victims were men aged 43, 55 and 58. Their names weren't released.
Heidenreich said one of the survivors had "serious injuries," but that he had no details on whether they were thought to be life-threatening.
The suspect comes from the central state of Hesse, Heumann said. He had no further details but police and prosecutors planned a news conference Tuesday afternoon.
At the scene, police forensic experts marked more than 40 bloody footprints — some of them barefoot — on the train platform with chalk numbers and collected evidence, including a cellphone.
Grafing has about 13,500 inhabitants. The rail station where the stabbing happened is some way from the town center. It is served by a Munich commuter line and faster trains on the Munich-Salzburg main line.
Mayor Angelika Obermayr described Grafing as "an absolutely peaceful little Bavarian town."
"Something like this is absolutely new and shakes people deeply — otherwise, they only know this kind of thing from television," she said. "That it could happen here is absolutely stupefying."
___
Geir Moulson and David Rising in Berlin contributed to this report.
___
A previous version of this story has been corrected to show that police are now saying that the age of the victim who died is 56, not 50.