Giants bring baseball back to San Francisco with home opener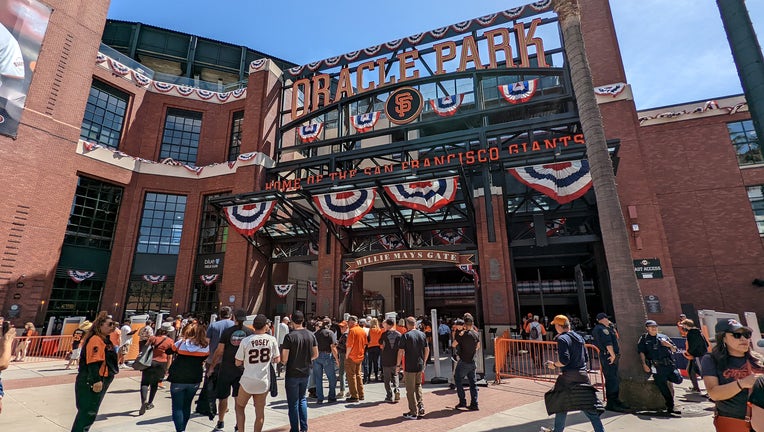 article
SAN FRANCISCO - The San Francisco Giants are back in the Bay Area for their home opener against the Kansas City Royals.
First pitch is at 1:35 p.m., and fans are encouraged to get in their seats by 12:45 p.m. for a pre-game ceremony.
"There's nothing like it," is the team's slogan for the 2023 season and given the Giants' rich history — there really is nothing like it, according to Mario Aliotio, the team's executive vice president of business operations.
The Giants returned home after winning two games and losing three in New York and Chicago.
In Chicago, the Giants smashed seven home runs in one game against the White Sox, tying a franchise record. Given the home runs and the new pitch timer rule, fans should expect some action-packed play.
This year's opening day is the start of a new concession deal at Oracle Park: $9 beers. Last year, domestic beers like Coors and Budweiser, sold for $14 for a 14-ounce cup, but Giants president and CEO Larry Baer felt this was too much and slashed the price by $5.
Although the cut in beer prices may feel like some long-awaited inflation relief, an Oracle Park experience ranks as the fifth most costly in the country.  The price of a ticket, hotdog and parking averages out to $83.74, trailing only the Yankees, Red Sox, Cubs and Nationals, according to a recent study from sportsbook NJ.bet.
The cheapest tickets for tomorrow's game are currently selling for $44 on StubHub.
Backpacks, including clear ones, are not permitted at Oracle Park this year. However, bags smaller than 16" x 16" x 8" are allowed, including paper and plastic grocery bags, fanny packs, diaper bags and soft-sided coolers.