Giants make dream come true for boy battling cancer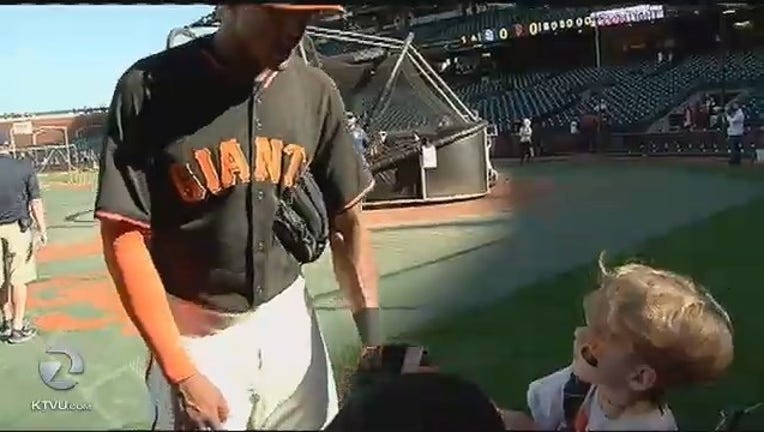 article
SAN FRANCISCO (KTVU) - The San Francisco Giants pounded the Padres Wednesday and the team's victory made for a memorable night for a Bay Area family.
The team played host to Greg and Jessica DeGrange of Vacaville and their four children.
The couple's oldest son, 8 year-old Charlie, has an inoperable brain tumor. Last July, doctors gave Charlie eight to 12 months to live.
Like most boys his age, Charlie loves baseball.
His little league coach contacted the Giants organization who offered tickets and a tour for the family.
They got to stand on the field and watch batting practice and met players Brandon Crawford and Justin Maxwell.
While the experience would be special for any 8-year-old, it was truly exceptional for Charlie.
"He doesn't have control and out here, he has control," said Charlie's dad, Greg. "He gets to be a kid. He gets to play and that's the beauty of all of it."
Charlies has DIPG, diffuse intrinsic pontine glioma, which is considered one of the most aggressive forms of cancer. For the past 11 months his life has been consumed by cancer treatments and hospital stays.
"It's just heartbreaking," said Charlie's mom Jessica. "You kind of think it's something that grownups get, old people get, but there are babies and 8-year-old little boys. It's horrible," she said.
The sadness that has enveloped the family seemed to disappear with every swing of the bat.
Charlie was closely following each inning, smiling and giving a thumbs up when the Giants scored.
A moment of happiness for a young child dying from cancer and a memorable moment for his family.
"It makes me feel great. I love it when we can have good days." said Jessica.