Giants Tim Lincecum shuts down Dodgers for first win of year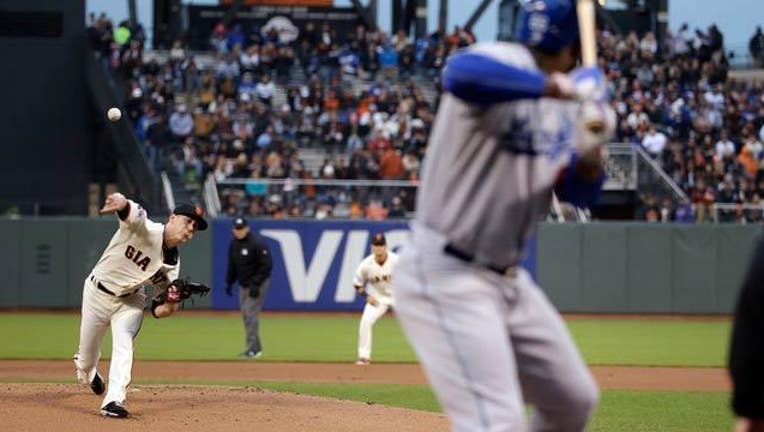 article
SAN FRANCISCO (AP) These days, Tim Lincecum tries to make do with whatever is working for him on a given night. He never counts on overpowering opponents anymore.
Lincecum shut down the first-place Dodgers with some sparkling double-play defense behind him, and the San Francisco Giants came out of their first day off seemingly refreshed to beat Los Angeles 6-2 on Tuesday.
''It's just about pitchability and making good pitches when you have to and putting the bad ones behind you when you can and moving on,'' Lincecum said. ''I've felt like that's kind of been what plagued me in the past, I let them kind of drag me down. I'm not saying this is a whole different evolution of a pitcher, I'm just trying to make my way with what I've got.''
Justin Maxwell hit a two-run homer in the eighth inning and San Francisco won for just the second time in 11 games behind Lincecum's first victory in three starts, snapping the defending division champion Dodgers' seven-game winning streak.
Nori Aoki, Brandon Crawford and Buster Posey hit RBI singles for the Giants, who turned four double plays for Lincecum (1-1) including in the first two innings.
The two-time NL Cy Young Award winner struck out five in six innings, allowing five hits and one run with three walks.
''We were getting guys on early but we erased them with the 2-ball,'' Dodgers manager Don Mattingly said.
A marquee matchup is on tap for Wednesday night between reigning NL MVP and Cy Young Award winner Clayton Kershaw and World Series MVP Madison Bumgarner in a likely duel of top left-handers. It marks the fourth time they have met and first since Sept. 13, 2013. It's the first time the reigning regular-season MVP goes opposite the World Series MVP in a starting pitching matchup, according to STATS.
Maxwell, getting a rare start, tripled in the second off Brett Anderson (1-1) and scored on Brandon Crawford's bunt single. He earned another start Wednesday, manager Bruce Bochy said.
''It's important for us to get on track and play better ball,'' Bochy said. ''The old adage, you can't win it here but you can lose it here if you get too far back.''
Maxwell made a remarkable catch in foul territory while crashing into the wall in right field on Yasiel Puig's hard-hit ball in the eighth. Maxwell's left knee and side made hard contact with the cement portion of the wall and athletic trainer Dave Groeschner and center fielder Angel Pagan came over to check on him. Puig clapped for Maxwell from the dugout as the outfielder shook off his tender wrist and stayed in the game.
He added to his big day with the homer to deep left in the bottom half, his first with the Giants.
''It's nice to see him find a home with us and doing well,'' Lincecum said.
Puig went 2 for 4 while returning to the Los Angeles lineup from his own injury after missing four of the previous five games with a sore left hamstring.
Lincecum, who cut his hair since his last start in a rocker-inspired `do, bounced back from a 4-2 defeat to Colorado last Wednesday. After Jean Machi walked the bases loaded in the ninth, Santiago Casilla came in and threw a wild pitch that scored a run before finishing for his fifth save in as many tries.
Anderson was done after four innings and dropped to 0-3 in four career starts against San Francisco.
Rookie Dodgers center fielder Joc Pederson singled and walked twice as he spent his 23rd birthday playing in front of family and friends in his native Bay Area.
---
TRAINER'S ROOM
Dodgers: Closer Kenley Jansen will continue throwing bullpens every other day until he's ready to face live hitters in his recovery from left foot surgery. ''He's on track for us,'' Mattingly said.
Giants: RF Hunter Pence's rehab from a fractured left forearm will take longer than the initial May 1 target date. He still must hit off a tee and soft toss, ''all these boxes he's got to check off,'' Bochy said.
UP NEXT
Dodgers: Last year, Kershaw (1-1) went 3-0 with a 1.69 ERA in four starts against San Francisco.
Giants: Bumgarner (1-1) is 11-5 with a 2.54 ERA in his first 17 outings, 16 starts, against the Dodgers and went 3-2 in five appearances last year while allowing two or fewer runs in four of those.
DODGERS ADDITION
Outfielder Chris Heisey, acquired in a December trade from the Reds, joined the Dodgers from Triple-A but had yet to be activated. Mattingly remained mum on Heisey's potential role.
''We wouldn't fly him here for no reason,'' Mattingly said.