GOP field grows: Longshots Fiorina, Carson launch their bids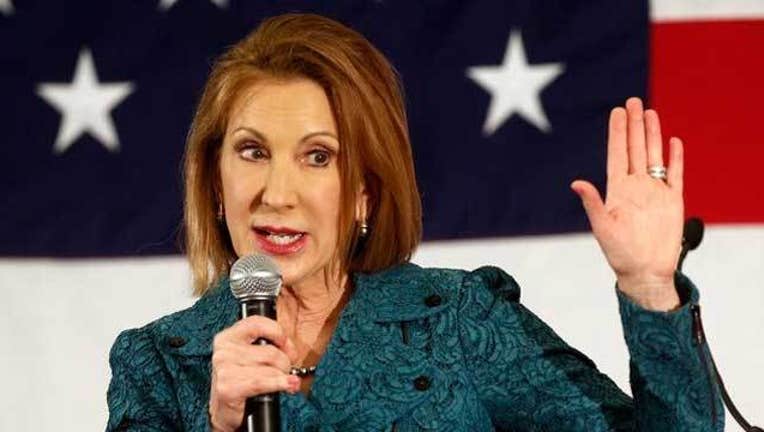 article
WASHINGTON (AP) — Former technology executive Carly Fiorina and retired neurosurgeon Ben Carson joined the rapidly expanding 2016 Republican presidential class on Monday, casting themselves as political outsiders in underdog campaigns, eager to challenge the elite of both parties.
In announcements separated by both geography and style, the two also highlighted the possibility that they can help the GOP expand its appeal among an increasingly diverse electorate. Fiorina is likely to be the only prominent woman to seek the GOP nomination, with Carson the only African-American.
"I'm probably never going to be politically correct because I'm not a politician," Carson declared at an announcement speech in his native Detroit, where he was raised by a single mother in what he called dire poverty. To be sure, he's a politician now. But not, he said, like the others.
"It's time for people to rise up and take the government back," said Carson, a favorite of the GOP's tea party wing. "The political class won't like me saying things like that. The political class comes from both parties."
Fiorina, former chief executive of Hewlett-Packard Co., chose social media and a nationally broadcast morning TV network show to launch her campaign. She is already laser-focused on Hillary Rodham Clinton. As the only woman in the GOP field, she sees herself as uniquely positioned to go after the dominant Democrat in the 2016 race.
"She is the personification of the professional political class," Fiorina said after releasing an announcement video that begins with an image of Clinton. Earlier, on ABC's "Good Morning America," Fiorina lashed out at Clinton for what she called a lack of transparency, including the use of a private email server while Clinton was secretary of state and foreign donations to her family's charitable foundation.
"I have a lot of admiration for Hillary Clinton, but she clearly is not trustworthy,"Fiorina said.
Fiorina and Carson both begin the race as longshots in a campaign expected to feature several seasoned politicians, among them former Florida Gov. Jeb Bush, Wisconsin Gov. Scott Walker, Florida Sen. Marco Rubio and Texas Sen. Ted Cruz.
On Tuesday, former Arkansas Gov. Mike Huckabee is expected to announce an underdog campaign of his own, fueled by support from the GOP's religious conservative wing. Like Fiorina, Huckabee is expected to be a Clinton scold. He is announcing his candidacy in Hope, Arkansas, his hometown as well as former President Bill Clinton's.
In a field that could ultimately feature more than a dozen notable candidates, the Republican contest is considered wide open. It's also more diverse than it was four years ago.
Republicans acknowledge a pressing need to broaden the party's appeal beyond its traditional base of older, white men. President Barack Obama won re-election in 2012 with the strong support of women and the ethnic minorities who are becoming a larger portion of the electorate.
Both Fiorina and Carson addressed the racial tension in Baltimore, among other American cities, after the recent death of Freddie Gray while in police custody. Six police officers face criminal charges related to the death.
"I think we were all relieved to see the six policemen involved in Baltimore charged," Fiorina said. She said it is vital for all police officers and vehicles that transport prisoners to be equipped with cameras "for everyone's protection."
Carson was far less specific in his remarks, saying that the underlying issue "is that people are losing hope."
"So when an opportunity comes to loot, to riot, to get mine, they take it, not believing that there is a much better way," he said.
Carson rose from poverty and ultimately became the head of pediatric neurosurgery for close to three decades at Baltimore's Johns Hopkins Children's Center. He gained stature in conservative politics after condemning Obama's health care law in front of the president at the 2013 national prayer breakfast.
Yet he has sometimes struggled under the glare of national politics.
Carson once suggested Obama's health care law is the worst thing since slavery, compared present-day America to Nazi Germany, and described homosexuality as a personal choice.
Fiorina became a prominent figure in Republican politics in 2010, when she ran for a Senate seat in California and lost to incumbent Sen. Barbara Boxer by 10 points. She said little on Monday about her background as the head of Hewlett-Packard, a time marked by soaring revenue, a merger with Compaq, sinking stock prices and infighting on the board that resulted in her firing in 2005.