GOP leaders move slowly on tighter gun laws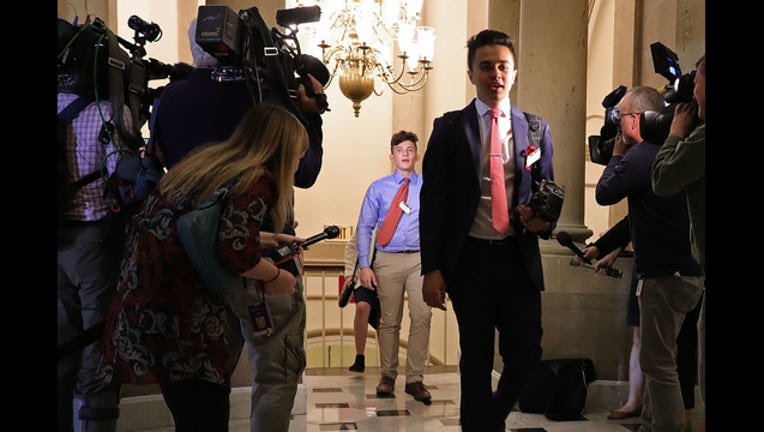 article
By LISA MASCARO and MATTHEW DALY
Associated Press
WASHINGTON (AP) -- House Speaker Paul Ryan on Tuesday showed little interest in stricter gun control proposals being floated in Congress, leaving the issue in the hands of wary Senate leaders and President Donald Trump, whose shifting views have left no clear strategy for legislative action.
As student survivors of the Marjory Stoneman Douglas High School shooting lobbied lawmakers for tougher gun laws, Ryan acknowledged "system failures" in Florida that he said Congress should review.
But GOP leaders did not promise votes on the matter and stopped short of offering solutions, beyond a pending bill aimed at increasing participation in the existing federal background check system. The bill uses new incentives and penalties to encourage better compliance with current law, but does not expand the pool of gun buyers required to undergo background checks before buying a gun. 

Even as he endorsed the measure, Senate Majority Leader Mitch McConnell downplayed its significance, saying it would not be a "panacea" for the rash of gun violence.
But McConnell said he wanted to "at least show some progress toward dealing with one element of the problem."
Republican leaders, who have majority control of the House and Senate, are reluctant to lead on legislation without knowing they have Trump's full support and can rely on his popularity with a core flank of the GOP electorate to shield them from political blowback.  
But Trump, who is inviting lawmakers to the White House on Wednesday, has proven an inconsistent partner in such policy debate, including the issue of gun violence that has taken on fresh urgency since the Valentine's Day assault that left 17 dead. 
One of Trump's top gun safety proposals after the Florida shooting -- raising the age to purchase some rifles from 18 to 21 -- receded after Trump lunched with leaders of the National Rifle Association last weekend. The idea had been promoted by TV personality Geraldo Rivera, who recently had dinner with Trump in Florida. But it was met with stiff resistance from the NRA. 
Although Trump has been quiet about the idea in recent days, White House press secretary Sarah Huckabee Sanders said Tuesday that the president continues to support raising the minimum age and expects that to be a topic of discussion when he meets with lawmakers.
But Rivera, a Trump ally, scolded the president on Twitter for appearing to back away from the proposal. "Incredibly we're set to do nothing re gun control again," Rivera tweeted. "The only person in the country strong enough to stand up to (hash)NRA (at)realDonaldTrump is apparently taking a pass after dropping modest reform of banning sales of semi automatics to kids not old enough to buy cigarettes & beer."
The Senate could vote this week on the legislation from Sens. John Cornyn, R-Texas, and Chris Murphy, D-Conn., to strengthen the National Instant Criminal Background Check System, though votes were not yet scheduled amid resistance from within the GOP ranks and demands by Democrats to vote on other measures.
The "Fix NICS" bill, similar to one approved last year in the House, would reward federal agencies and states that utilize the background check system, and penalize those that don't properly report required records used to determine whether someone can legally buy a gun. It was introduced last fall after the shooting of churchgoers in Texas. At the time, authorities acknowledged having failed to report the Texas gunman's domestic violence conviction to the database.
"Let's do what we can and build from there," Cornyn said.
But broader proposals were quickly circulating, and Senate Minority Leader Chuck Schumer, D-N.Y., urged the Senate to be more ambitious than the "tiny" bill.
Sens. Joe Manchin, D-W.Va., and Pat Toomey, R-Pa., are reviving their background check bill, which would expand reviews to include purchases online and at gun shows. It had failed after the 2012 Sandy Hook Elementary School shooting in Connecticut. 
And Sens. Susan Collins, R-Maine, and Heidi Heitkamp, D-N.D., pushed a renewed bipartisan effort to block terror suspects on the federal no-fly list from buying guns.
"Let's not set our sights too narrow and squander this moment," said Schumer, who also met with students Tuesday. 
Cornyn said he was dismayed that senators wanted to debate other ideas before taking up the background checks bill, and warned that a prolonged debate could result in no legislation being passed.
But even the "Fix NICS" bill faced resistance from some in the GOP, including leaders of the conservative House Freedom Caucus.
The House approved the bill late last year as part of a broader package that also expanded gun rights by requiring states to recognize conceal-carry permits issued by other states. Some House Republicans are resistant to separating the two issues, as is likely in the Senate. 
Rep. Jim Jordan, R-Ohio, a Freedom Caucus leader, said it would "let bureaucrats take away an American's 2nd Amendment liberties without due process."
Ryan did not commit to passing the background check bill on its own and panned other bills, including stiffer background checks and an assault weapons ban.
"We shouldn't be banning guns for law-abiding citizens," Ryan told reporters. "We should be focusing on making sure that citizens who should not get guns in the first place don't get those guns."
One of Trump's proposals, to prohibit sales of bump stocks ---- the devices that turn rifles into automatic-style weapons and were used in the Las Vegas mass shooting last fall ---- is being considered by the Justice Department.
Attorney General Jeff Sessions said top officials believe the hardware can be banned through the regulatory process. The approach is preferred by the NRA and could relieve Congress of pressure for legislative action. 
 
   ----
 
   Associated Press writers Alan Fram, Catherine Lucey and Andrew Taylor contributed to this story.