Gore now an Eagle; Willis to retire; Kaepernick on trading block?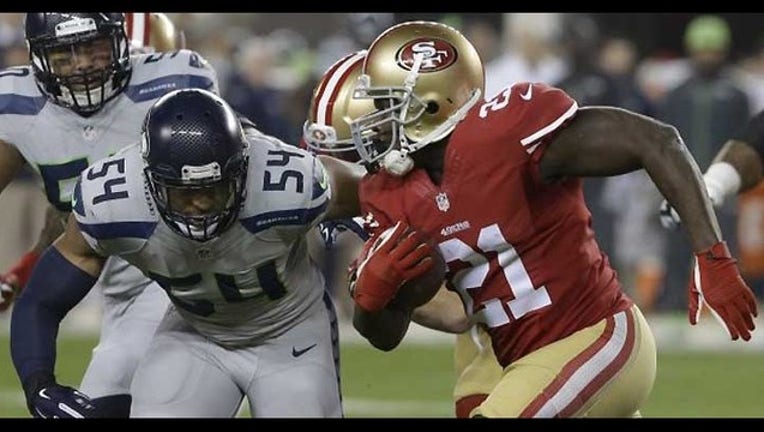 SANTA CLARA, Calif. (KTVU and wires) -- Long-time San Francisco 49ers running back Frank Gore has reportedly signed a deal to join the Philadelphia Eagles and All-Pro linebacker Patrick Willis will an announce his retirement, according to media reports Monday.
Houston radio station was also reporting quarterback Colin Kaepernick was on the trading block early Monday as 49ers fans prepared for a wild week.
The news on Willis was reported by Yahoo Sports early Monday morning.
Willis has played eight seasons with the 49ers and has emerged as the NFL's premier middle linebacker. He has been a seven-time Pro Bowl selection, but played in just six games last season before being lost for the season because of surgery on his left toe.
Meanwhile, two people familiar with the moves the Eagles are making told the Associated Press that Gore, a five-time Pro Bowl running back, has agreed to contracts with the Eagles.
Meanwhile, the 49ers were quick to discredit the Houston radio station report, saying the team was not shopping Kaepernick around.
"Colin is our quarterback and we are excited to have him. He is not going anywhere," general manager Trent Baalke said in a statement to CSNBayArea.com. "The media reports suggesting otherwise are without merit and quite frankly ridiculous."
Jayson Braddock of KBME-AM radio in Houston reported on Sunday night that the 49ers have had trade talks involving Kaepernick.
Baalke called the report "ridiculous."
Gore leaves the 49ers as the franchise's career rushing leader after 10 seasons. His contract is for three years and includes $7.5 million guaranteed over the first two seasons.
He will help replace LeSean McCoy. The two-time All-Pro will be traded to the Buffalo Bills on Tuesday for linebacker Kiko Alonso.
Gore, who turns 32 in May, ran for 1,106 yards and four touchdowns while averaging 4.3 yards per carry last season. Gore has 11,073 career yards rushing, 64 TDs and an average of 4.5 yards per carry. He also 342 receptions for 2,883 yards and 11 TDs. The durable Gore hasn't missed a game since 2010. He fits Kelly's preference of a straight-ahead runner.