Graveman pitches A's to 5-2 win over slumping Yankees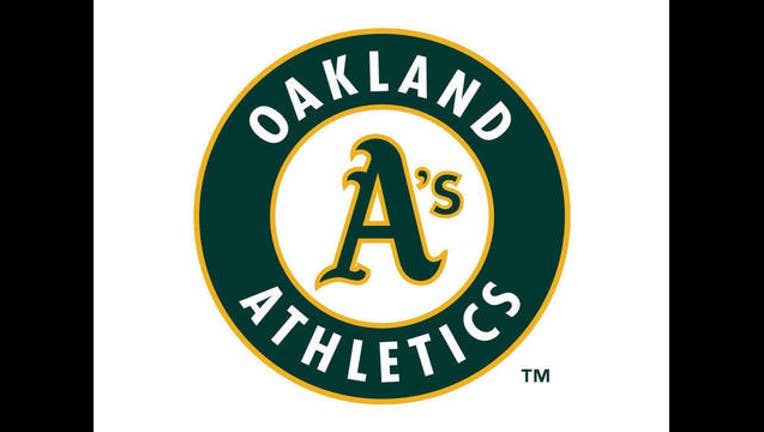 article
NEW YORK (AP) -- Kendall Graveman got more than a win Wednesday night in his first outing at Yankee Stadium. He even took a couple of surprise swings at the plate.

Graveman tossed three-hit ball into the seventh inning and struck out eight, pitching the Oakland Athletics to a 5-2 victory over the slumping New York Yankees.

Following an injury to third baseman Danny Valencia, the A's relinquished their designated hitter and put Graveman in the cleanup spot. With two runners on in the fifth, he fouled off a 97 mph fastball but struck out on three pitches. 

"I didn't show up to the park thinking I was going to get an at-bat," Graveman said. "I hadn't stepped in the box in eight years."

Billy Burns had three hits, Khris Davis delivered a two-run single and Oakland stayed perfect in five road games this season. The only major league team that's unbeaten away from home, the A's have won four straight overall following a four-game slide.

Burns and Chris Coghlan hit consecutive doubles off Nathan Eovaldi (0-2) to start a three-run fourth. Josh Reddick had an RBI single and Stephen Vogt added a sacrifice fly, but Valencia strained his left hamstring when he was cut down at the plate on Aaron Hicks' rocket throw from medium-deep left field.

"Felt it when I popped up after the slide," Valencia said. "He has to make a perfect throw -- almost unheard of throw -- to get me there and he did."

The laser from Hicks, also a top-notch pitching prospect in high school, was clocked at 105.5 mph by Statcast, the fastest the system has recorded by an outfielder, according to Major League Baseball.

Without a backup infielder on his four-man bench, Oakland manager Bob Melvin moved Coghlan from second base to third and put designated hitter Jed Lowrie at second. That forced Graveman into Valencia's cleanup slot.

So with a runner on second and two outs in the fifth, the Yankees intentionally walked Reddick to bring up Graveman for his first big league plate appearance -- making him the first starting pitcher to bat at the current Yankee Stadium, which opened in 2009.

On the mound, Graveman (1-1) worked his way out of a first-inning jam and gave up only Didi Gregorius' solo homer in 6 1/3 innings. The right-hander was obtained from Toronto in the November 2014 trade that sent reigning AL MVP Josh Donaldson to the Blue Jays.

"I didn't throw the fastball for a strike a lot. We saw that I was off the plate with that, but the cutter and the curveball really played well off each other tonight," Graveman said.

Gregorius also made an error at shortstop and a baserunning blunder that bothered manager Joe Girardi and cost the Yankees at least one run as they were trying to rally from a 3-1 deficit in the seventh.

"It was a really bad read," Gregorius said. "Stupid baserunning. ... I tried to do too much."

Carlos Beltran homered in the eighth, the only hit off A's reliever Ryan Dull in 8 1/3 innings this season. Sean Doolittle pitched a scoreless ninth for his second save.

New York, struggling mightily with runners in scoring position, has dropped six of seven and mustered only 15 runs during that stretch.

"We have to focus on doing the little things. Every at-bat is life or death. Got to relax, get a good pitch to hit and hit it," said Alex Rodriguez, called out on strikes with the bases loaded to end the first.

FAVORITE FOE

Oakland improved to 15-6 against the Yankees since the start of 2013, the best record for an AL team vs. New York during that period.

TRAINER'S ROOM

Athletics: Melvin said Valencia won't play Thursday. "Hopefully it's not a DL thing," the manager said. ... INF Eric Sogard had surgery on his left knee and is likely to be sidelined at least another six weeks. ... RHP Henderson Alvarez, recovering from right shoulder surgery last July 28, threw 30 pitches for Class A Stockton in a rehab start against Visalia. He allowed one run and three hits over three innings. ... Lowrie began the game as the DH to give him a little breather, but didn't get much time off his feet. "Every time I try to get him a day off he ends up in the game anyway," Melvin said before the game. "We'll call this hopefully half of one for him."

Yankees: Brett Gardner was scratched from the lineup with a stiff neck and replaced in left field by Hicks, who batted ninth. Starlin Castro moved up to Gardner's No. 2 spot in the lineup. Hicks also played Tuesday against a left-hander and could be in line for another start Thursday night against LHP Rich Hill.

UP NEXT

Athletics: Hill (1-2, 4.15 ERA) makes his fourth start for Oakland in the series finale Thursday night. He has 19 strikeouts in 13 innings. New York had trouble against left-handed pitching last season and is 0-3 in games started by southpaws this year.

   Yankees: RHP Luis Severino (0-2, 5.91 ERA) looks to get on track in his third start of the year after going 5-3 with a 2.89 ERA as a 21-year-old rookie last season.