Green 'swamp creatures' crash Trump nominee's Senate confirmation hearing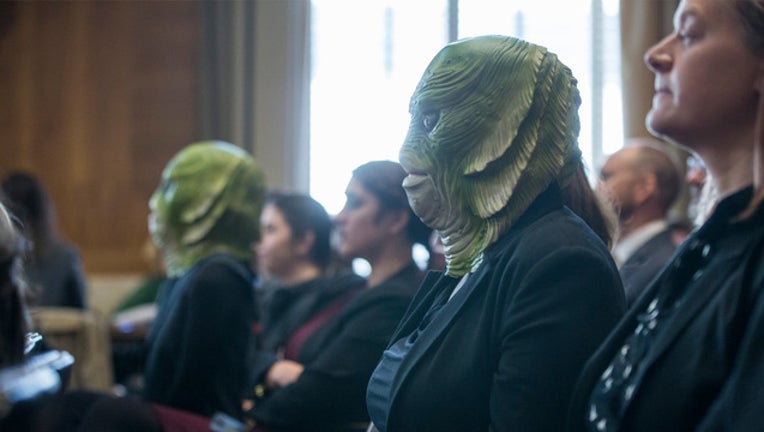 article
FOX NEWS - Silent protesters donning green masks and one that resembled the character in the horror film "Creature from the Black Lagoon" popped up at Interior Secretary nominee David Bernhardt's Senate confirmation hearing on Thursday.
Images of the spooky swamp creatures quickly circulated online late Thursday afternoon — as Greenpeace USA shared a GIF of a demonstrater pulling the mask over her head while Bernhardt was questioned by committee members. At least one green creature appeared in the frame (just above Bernhardt's shoulder) of photos and videos throughout the hearing.
"So why did we bring these swamp creatures to David Bernhardt's confirmation hearing for Interior Secretary this morning? Well... Bernhardt is a former oil and gas lobbyist who previously worked to help corporate polluters get their hands on public lands," the environmental nonprofit organization wrote in a tweet, which has received hundreds of likes.
Greenpeace said it was intended to be a spoof of President Trump's popular campaign saying: "Drain the swamp," referring to corruption and greed in Washington, D.C. The organization claimed Bernhardt is a "walking conflict of interest."
Read more on FOX NEWS.
---
RELATED
Trump: FBI, DOJ to review Jussie Smollett case
Trump threatens to close border with Mexico next week
Houston-area school district receives angry calls over Trump-related assignment
Trump threatens to close border with Mexico next week