Grieving mother warns others about diabetes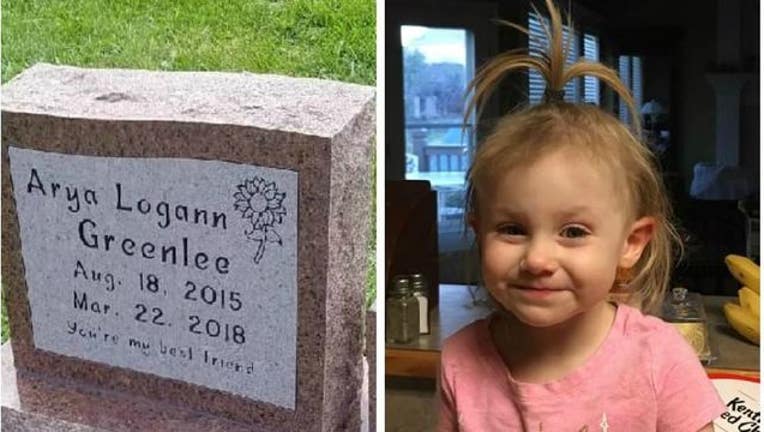 KANSAS, Mo. (KTVU) - A mother is warning other parents after losing her daughter to undiagnosed diabetes last spring. 
Sierra Greenlee said she had avoided posting about her daughter's death, but decided it was important to warn other parents to get their children tested for diabetes. 
Greenlee shared the timeline of the heartbreaking day when she lost her daughter. 
She says March 22, 2018 began like any other day. Greenlee went to work and then went to pick up her daughter, who had spent the previous week with her dad.
Greenlee was anxious for snuggles, excited to hear about her daughter's week and was planning a late morning breakfast and playtime for the next day. Tragically, those plans never came to fruition. 
When Greenlee arrived, a babysitter carried 3.5 year-old Arya to the car. "My daughter was completely knocked out - she had had a hard day. In an offhanded way I asked if she was breathing, joking. Until I put my hand on her little chest and I felt no movement. In that moment I completely freaked out."
Greenlee says she frantically started CPR. "In my head I knew I needed to remain calm but I couldn't. I was yelling at my babysitter, and trying to think about doing chest compressions and breathing and freaking out the entire time."
Emergency crews arrived and rushed Arya to the doctor. "For the next hour while they tried desperately to bring me back my baby I called my parents and her dad, I paced, I cried, I prayed. At times I felt like an outsider watching this awful event unfold. I had always had these nightmares but it was never supposed to happen, not to me. It was the most surreal moment in my life," says Greenlee. 
Greenlee was at the hospital for about 10 minutes before a doctor told her the words that changed her life. "We did everything we could but unfortunately we were unable to revive her and she did not survive."
Greenlee recalls, "That one little sentence devastated my entire being. Everything I was - was in that little girl. She was my absolute pride and joy. If you asked me how I was doing it would usually go something like 'I'm good, my daughter...'. But in that moment I couldn't feel anything it was like my heart had stopped too. I was an empty shell." 
After Arya's death, Greenlee stayed with her and held her lifeless body in a hospital bed. "I held her as the heat slowly left her body and her skin became cold to the touch. If I wasn't holding her I was running my hands through her little hair. Singing her favorite song."
Tests revealed Arya had died from undiagnosed Type 1 Diabetes. Her blood sugar levels were in the 500's at the time of her death. "For those of you who do not know, an average person's blood sugar should not be above 100 and my child's was five times the healthy amount. At 300-400 you start to go comatose. My baby had slipped into a coma and her little body was unable to fight its way out, and it gave out," said Greenlee. 
Arya had just had a healthy wellness checkup the week before her death. Greenlee said diabetes does not run in their family and there were no signs. 
Greenlee is sharing her story in hopes that other parents will get their children tested for diabetes. She says it's just a simple blood sugar test that can be requested at a wellness checkup. 
She warns symptoms of diabetes in young children are often overlooked because they include drinking a lot, and peeing a lot. 
Greenlee says, "I beg you to share this post and story with everyone because no parent should ever have to hear the words 'I'm sorry but unfortunately she did not survive.'"