Grim calculus: Coroners search for those killed in California wildfires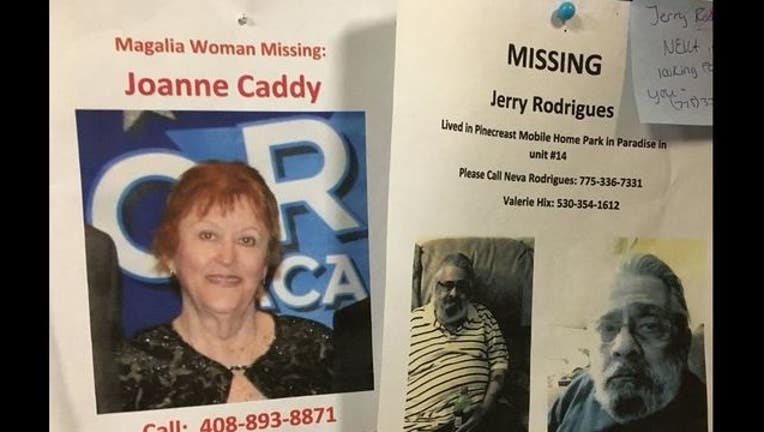 article
PARADISE, Calif. (AP) - The blue of an unfurled body bag has become a gut-wrenching splash of color in this apocalyptic landscape as pressure mounts to account for the hundreds of missing people after a wildfire roared through the California town of Paradise.
Coroner search teams, many accompanied by a chaplain, have fanned out across Paradise, visiting dozens of addresses that belong to people reported missing since last week's explosive blaze leveled this town of 27,000. At least 42 people were confirmed dead, making it the deadliest in state history.
The searchers use a grim calculus at each scene: No cars in the driveway is good, one car a little more ominous and multiple burned-out vehicles equals a call for extra vigilance.
When a body is found, a call goes out, yellow police tape goes up - and the blue body bag arrives. In many cases, there is almost nothing left. The long bag looks almost empty as it's carefully carried out of the ruins and placed in a black hearse.
Sometimes there are no answers.
Barbara Hall has been searching for a woman she considers her aunt, Arlene Bickel. Arlene Bickel and her husband, Paul Bickel, are in their 80s and 90s and have not been heard from since the fire. It appears they made it out of their home in a retirement community because the house is still standing and they are not home - but Hall has had no luck finding them.
"Did they make it in their car? Did they get away? Did their car go over the edge of a mountain somewhere? I just don't know," said Hall, who is 66 and making calls with her daughter's mobile phone from nearby Redding, where her daughter lives.
A coroner's search team visited the address - one of dozens they had - on Monday and found the Bickels' unit still standing. No one answered the door, and it was dark inside.
"It doesn't help my worries because they're still missing," she said.
Hall planned to come to Chico, the nearest town not in the evacuation zone, on Tuesday to be closer.
Authorities were bringing more resources in to find the dead - two mobile morgue units and dozens of additional search and rescue personnel.
Some relatives have received answers, but not the ones they wanted.
Mike Carlson began looking for his mother, Barbara Carlson, her sister Shirley Haley and their dog named Strawberry after learning about the wildfire Thursday night.
He and his daughter Annika drove more than 100 miles from their home in the Central Valley to the fire zone to look for them. They made numerous calls, posted flyers and sought help on social media by creating a special hashtag.
"We checked with the Red Cross, hospitals, police, filed missing person reports, and we've got nothing," Carlson said in a telephone interview Sunday as he headed to Chico to visit makeshift shelters in the area.
He said he requested a welfare check with the sheriff's department, but was deflated when told he was 400th on the request list. He also felt discouraged when he saw his mother's address on a map of the burned area, but he held out hope.
His niece was the last person to talk to his mother by phone as flames bore down on the house.
She said she wasn't leaving, because God would save her, Carlson recalled.
But on Sunday night, two deputies came to Carlson's door with the news he didn't want to hear.
A fire engine crew doing a check of homes had found two bodies at his mother's address on Heavenly Place.
___
Associated Press writers Janie Har and Daisy Nguyen contributed to this story.