Grizzlies Allen a 'game-time' decision; Warriors Speights out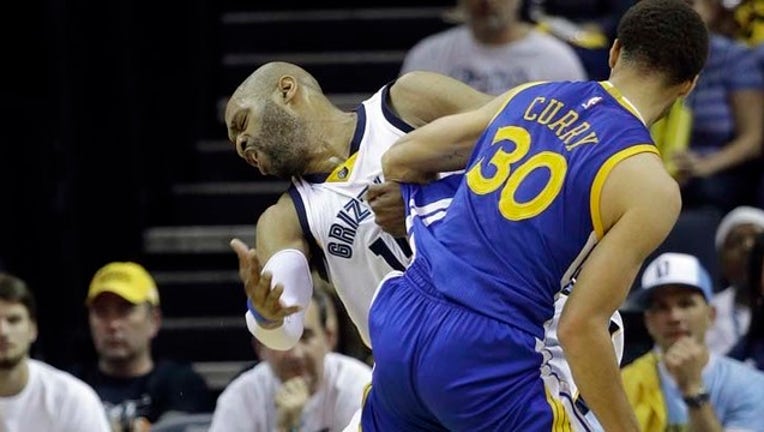 OAKLAND, Calif. (AP) — Memphis Grizzlies guard Tony Allen remains questionable to play in Game 5 against the Golden State Warriors Wednesday night because of a sore left hamstring.
Meanwhile, the Warriors will be without backup center Marreese Speights who has been sidelined for at least a week with an injured calf.
Grizzlies coach Dave Joerger told reporters after the team's shootaround in San Francisco that Allen will be a game-time decision Wednesday night. The series is tied 2-2.
In their Game 4 win in Memphis, the Warriors often left Allen open on the perimeter so center Andrew Bogut could be a help-side defender and double team Marc Gasol and Zach Randolph in the paint.
The Grizzlies never had an answer for the unconventional approach, and Allen ended up playing just 16 minutes after dominating defensively the previous two games.
Allen had downplayed Golden State's defensive move, saying he likes the matchup and "hopefully they'll do it again and I'll take advantage of it."
 But it certainly seemed to work well for the Warriors, who took advantage of Allen's limited role.
Joerger says Allen has "been more hurt than I think people realize."
The Warriors spent all season earning home-court advantage in the playoffs, quickly lost it in the second round, and now have regained it.
"The only thing we've done is get home court back, which is great. But there's no guarantees of anything," Warriors coach Steve Kerr said after arriving in the Bay Area on Tuesday. "You have to compete. You got to play. We have to come with the same mindset, the same approach."
After going down 2-1 and having their dream seasons on the brink of turning into nightmares, the Warriors turned in a series-saving performance on the road. They clamped down on defense and got back to the ball-movement based systems that made them regular-season juggernauts.
Stephen Curry also played at an MVP level in Game 4 and Klay Thompson started hitting shots. While the offense finally got going, Golden State believes a defensive adjustment made the biggest difference.
Golden State shot 47.5 percent from the floor and 42.4 percent (14 for 33) from 3-point range. The Warriors had made just 12 3s in the previous two games combined.
"It was a little different look than I think they had ever seen," Warriors forward Andre Iguodala said. "So they're going to adjust to it, and that's why I say, 'We've just got to keep getting better, keep watching film and getting ready to bring it.'"