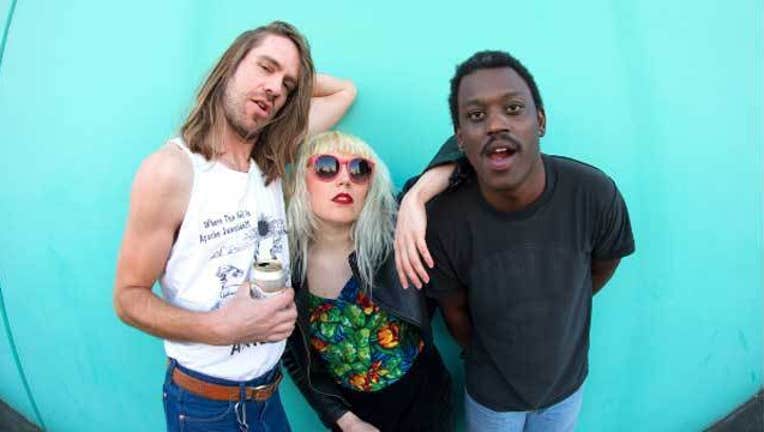 article
Portland, OR-based garage-surf purveyors Guantanamo Baywatch have been dealing out their snarling take on twanging guitars and "Wipeout" rhythms since first coming together in 2009. Anchored by guitarist and vocalist Jason Powell (bassist Chevelle Wiseman and drummer Chris Scott round out the trio), the group first showed off its brash mix of sleazy, reverb-drenched riffs, crass sense of humor and sweet melodies on their debut album Postcard from the Tar Pitz and the cassette EP Reptile Roomate.
The band built up a solid reputation for putting on unhinged live shows with steady touring up and down the West Coast and eventually across the country. In 2012, the band delivered another chaotic dose of guitar-fueled surf mayhem with Chest Crawl for the Dirtnap imprint. For Guantanamo Baywatch's latest effort, the trio decided to take a more measured approach in the studio. 
Ditching the blown-out four-track sound that had marked earlier recordings, Darling...It's Too Late for Suicide Squeeze Records finds the group polishing it's sound. Nodding to girl-group harmonies and Beach Boys-inspired pop hooks without completely abandoning the trashy aesthetic that has served them so well, tracks like the jungle sound laced opener "Jungle Bride" and the swaggering Davie Allan biker surf stomper "Corey Baum's Theme" show off a new level of sophistication. Guantanamo Baywatch brings it's current tour promoting the recent release to the Bay Area ahead of their summer appearance at Burger Boogaloo in Oakland over the July 4th holiday weekend, landing at the Golden Bull in Oakland Friday night.
Guantanamo Baywatch
Friday, May 29, 9 p.m. $8
Golden Bull