Hahn shuts down Padres, Vogt hits grand slam in A's 9-1 win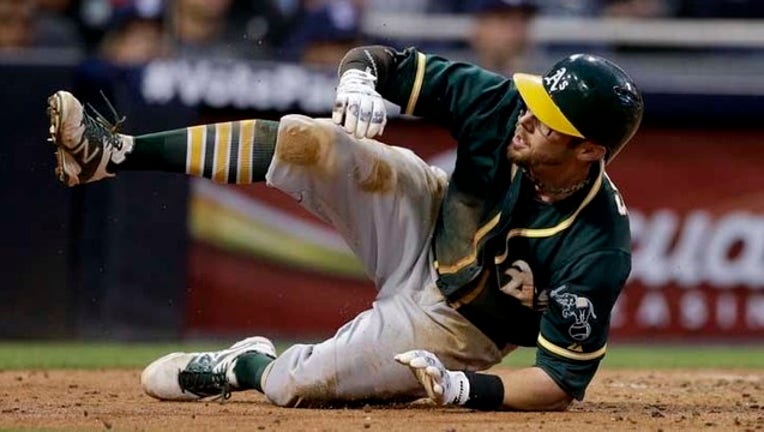 article
SAN DIEGO (AP) -- Jesse Hahn made his former team pay for trading him.
Hahn pitched well into the seventh inning and Stephen Vogt hit a grand slam as the Oakland Athletics beat the San Diego Padres 9-1 on Monday night.
Hours after San Diego fired long-time manager Bud Black, Hahn (4-5) shut down the team that dealt him in the offseason, holding the Padres one run and three hits over 6 2/3 innings while striking out four and walking two.
"I was very excited for this start, but I didn't really change anything, I just treated it as another start," Hahn said. "Just because it was my first major-league team and I made my debut here, and I wasn't really expecting the trade. I think anyone would want to go out there and pitch a great game."
In the eighth, Vogt hit the first pitch from Cory Mazzoni, who was recalled from Triple-A earlier in the day, into the Jack Deck in right field to give Oakland a 9-1 lead.
"I just had a feeling that he was going to throw a first-pitch heater," Vogt said. "The guy throws hard, so I just thought about getting my foot down and fortunately he threw it and I didn't miss it."
It was Vogt's second career grand slam and third hit of the night, following an 0-for-15 stretch coming into the game.
"I went up there in my first at-bat and had a lackluster swing," Vogt said. "I wasn't really feeling aggressive, so I said I'm just going to swing as hard as I can and when you hit a true line drive the other way, it reminds you that you know how to hit. I did feel a lot better tonight."
Vogt also had a few foul balls ricochet into his body behind the plate and was visited by the trainer on one occasion.
"He's banged up, really banged up," Oakland manager Bob Melvin said. "He's got a myriad of things bothering him right now."
San Diego's Tyson Ross (3-7) was also facing his former team and gave up four runs and seven hits in five innings. He struck out four consecutive batters before the third when Oakland broke through for three runs, and finished with six strikeouts while walking five.
"It definitely was a weird vibe today," Ross said. "I think I started on the day last year when Tony Gwynn passed and the anniversary is tomorrow.
"But definitely a weird vibe coming in for us."
Dave Roberts was named interim manager for the Padres while they conduct a search for a manager to finish out this season and potentially beyond.
Brett Lawrie had three hits and drove in two runs for the A's. Ben Zobrist reached base five times, including four walks, and scored twice. The win was the second straight by a large margin for Oakland, which beat the Angels 8-1 on Sunday.
"We've seen it a few times this year," Melvin said. "It's good to see. That hasn't been the problem for us this year."
Will Venable doubled home San Diego's only run in the third inning after a replay challenge was upheld by home plate umpire Mike DiMuro. Venable and Roberts claimed Venable was hit by a pitch from Hahn, but the at-bat continued and Venable sent the next pitch to the wall in center field, scoring Alexi Amarista.
Venable reached base again on a throwing error by first baseman Max Macy in the fifth that put runners at second and third with two outs, but Hahn recovered to get Cory Spangenberg on a groundout and end the threat. Oakland leads the majors with 62 errors.
Drew Pomeranz escaped a two-out jam in the seventh after Hahn left the game, getting Venable to ground out.
Eric O'Flaherty and Fernando Abad each contributed scoreless innings.