Highlights and key moments from Sen. Dianne Feinstein's career
SAN FRANCISCO - U.S. Sen. Dianne Feinstein, an indisputable political powerhouse, shattered gender barriers from San Francisco's City Hall to the corridors of Capitol Hill.
The California Democrat ascended the political ladder and secured her seat in the U.S. Senate in 1992. However, prior to assuming the role, she played a crucial role in guiding San Francisco through a period of recovery that started in the 1970s.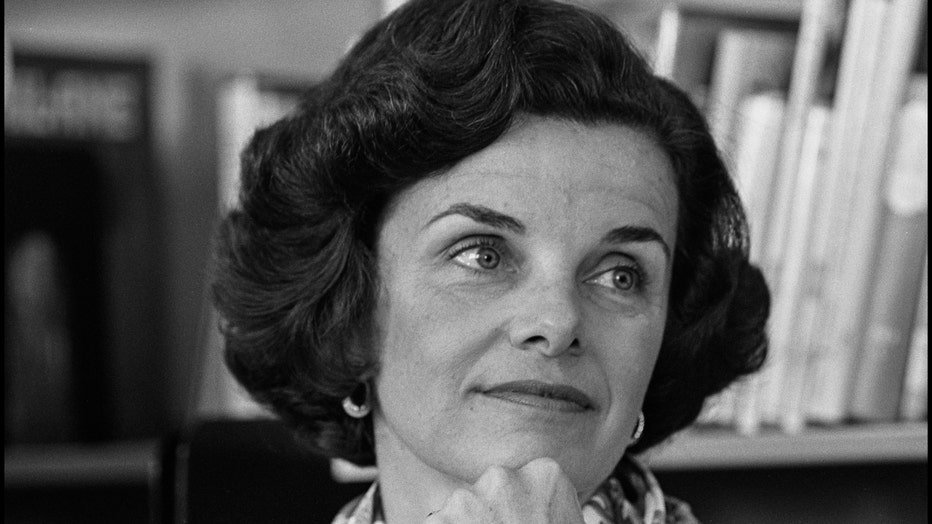 Close-up of American politician San Francisco Board of Supervisors member (and future US Senator) Dianne Feinstein as she attends a Candidates' Day event at the Douglas School, San Francisco, California, September 1979. (Photo by Janet Fries/Getty Im
In a stunning victory, Feinstein was elected to the San Francisco Board of Supervisors in 1969, where she served for nearly a decade, ultimately becoming the board's first female president in 1978. It was during that same year when political violence in San Francisco took center stage.
On November 27, 1978, then-Mayor George Moscone and Supervisor Harvey Milk were assassinated at City Hall by Dan White, a disgruntled former supervisor who had resigned weeks earlier and sought to reclaim his position.
It was Feinstein who discovered Milk's body, and it fell upon her to break the devastating news.
"As President of the Board of Supervisors, it's my duty to make this announcement. Both Mayor Moscone and Supervisor Harvey Milk have been shot and killed," she told reporters on that day.
This "day of infamy" and its aftermath altered the course of her political career. Shortly before the tragedy, Feinstein told City Hall reporters that she was contemplating leaving politics, according to the San Francisco Chronicle. However, the tragic events that unfolded changed everything, as she instantaneously assumed the role of San Francisco's mayor.
Feinstein is widely credited with restoring calm and order to San Francisco following the period of political violence, as reported by Politico. She was hailed as a compassionate and reassuring presence for the city's gay community, which had endured the violent loss of a prominent and influential advocate for gay rights.
During her tenure as acting mayor, Feinstein did not implement major changes to the Moscone administration. However, after securing her first mayoral term in San Francisco in 1979, she began charting her own course, making her own appointments, and guiding the city toward a more centrist path.
In 1984, Feinstein was viewed as a vice presidential possibility for Walter Mondale but faced questions about the business dealings of her husband, Richard Blum.
In 1990, Feinstein entered the race for governor of California, though she was defeated. Two years later, she ran for a Senate seat and emerged victorious, eventually becoming the nation's longest-serving woman senator
Feinstein was a passionate advocate for liberal priorities important to her state, including environmental protection, reproductive rights, and gun control. Nevertheless, she was also recognized as a pragmatic lawmaker who reached across the aisle to work with Republicans and seek common ground.
David Levine, professor at UC Law School SF, said, "that ability to reach across the isle, to be able to find common ground with people was very, very important .It's the kind of thing you want in legislators."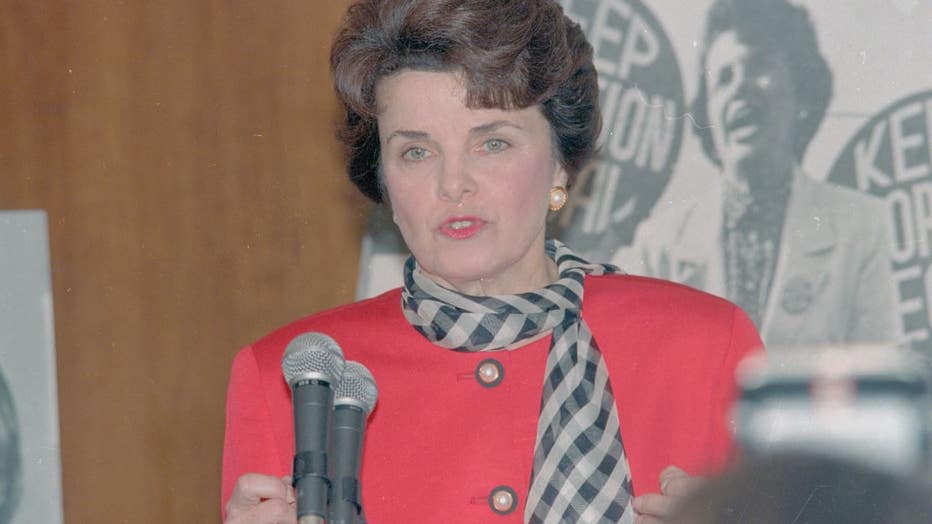 Democratic candidate Dianne Feinstein speaks at a conference during her run for governor of California.
Among her most notable accomplishments, Feinstein cited the enactment of the federal Assault Weapons Ban in 1994 and her leadership in the six-year investigation into the CIA's alleged torture of terrorism detainees, that uncovered the use of practices like waterboarding and sleep deprivation.
"Releasing this report is an important step to restore our values and show the world that we are, in fact, a just and lawful society," Feinstein said after the release of a 500-page executive summary into the CIA's tactics. 
Feinstein also championed same-sex marriage.
"Americans should be free to marry the person they love regardless of sexual orientation or race," she said previously.
She also supported the authorization of military force in 2002 against Saddam Hussein's Iraq, as reported by the Wall Street Journal. In 2009, Feinstein became the first woman to chair the Senate Intelligence Committee.
And In 2018, Feinstein, then the top Democrat on the Senate Judiciary Committee, brought sexual misconduct allegations against Supreme Court nominee Brett Kavanaugh to the attention of federal investigators.