Homeless student awarded with college scholarship & other gifts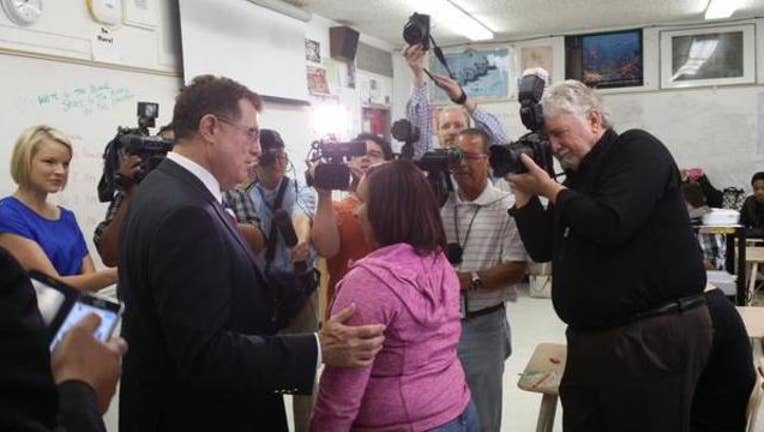 article
"I just felt compelled that this person needs to know somebody cares," explains Fox 26 viewer Melva Roy. "We've gone grocery shopping. We've gone clothes shopping, back to school supplies to get her ready. A gentleman has donated gas cards." 
"She deserves it 100 percent," says Bellaire High School counselor Susan Lede. She watched Hamilton struggle without parents for years and at times, live with school employees. 
"I always wanted to be there for her. This is an emotional day. I'm grateful," says Lede as tears stream down her face.

"This young woman has been brave through her whole life and we wanted to help her with a bright future," smiles Dr. Grier.

The super-sized support started with FOX 26 viewer Melva Roy speaking with HISD Board member Wanda Adams "and the next thing I knew here we are today," explains Roy. "I thank God for using me to come into her life. I'll never forget this."
A Houston-area attorney set up an Alisa Hamilton trust fund at Frost Bank, which means you can donate at any Frost Bank by just providing Alisa Hamilton's name.

Photographer Andre' Humphery, who owns his namesake company, donated Alisa's prom pictures. 
"She's just an awesome person and I always look for opportunities to give back to the community," explains Humphery. "I've been really blessed."

"This is a miracle," says Hamilton's Godmother Linda Turner. "I'm so excited. I'm so proud of her." Turner helps the teen as much as she can.
Because Hamilton is enrolling at a Christian college and wants to be an accountant, Houston City Controller Ronald Green and city auditor Courtney Smith are offering the teenager an internship -- a surge of support for a girl who is accustomed to having to go it alone. 
"It makes me feel good," says Hamilton with a smile.