Hoverboard recall due to fire threat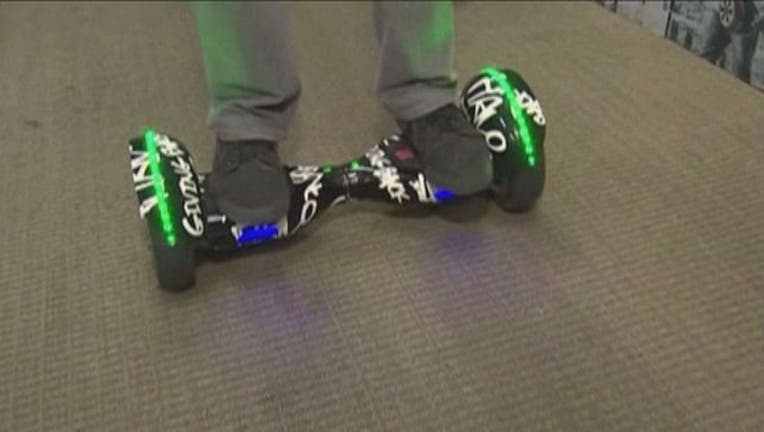 article
KTVU - About 501,000 hoverboards were recalled Wednesday, because of a fire danger, said the U.S. Consumer Product Safety Commission.
There have been at least 99 incidents of battery packs overheating.
In some incidents, smoke came from the devices.
Other times, the hoverboards caught fire and exploded, said safety officials.
Several occasions, hoverboard owners were burned.
The devices under the recall, were sold either in stores or online, from June 2015 to May 2016.
They were sold for $350 to $900.
The hoverboards under the recall:
16,000 Hover-Way boards with model number HWSBB601-R, manufactured by Digital Gadgets LLC of Monroe, New Jersey
70,000 Powerboards manufactured by Hoverboard LLC or Scottsdale, Arizona
25,000 Hype Roam boards manufactured by Hype Wireless of Edison, New Jersey
84,000 iMoto boards manufactured by Keenford Ltd. of Hong Kong, China
4,900 Airwalk Self-Balancing Electric Scooters manufactured by PTX Performance Products USA of Irvine, California
28,000 Hovertrax scooters manufactured by Razor USA LLC of Cerritos, California
267,000 Swagway X1 scooters manufactured by Swagway LLC of South Bend, Indiana
800 Wheeli, 2Wheelz, Back to the Future, Mobile Tech, Hover Shark, NWS, X Glider and X Rider scooters manufactured by Yuka Clothing of Miami, Florida
1,300 Orbit boards sold by Boscov's of Reading, Pennsylvania
4,300 hoverboards sold by Overstock.com of Salt Lake City, Utah
Owners should stop using the hoverboards, and contact the manufacturer for a full refund, exchange, or repairs.