How to help victims of Nepal quakes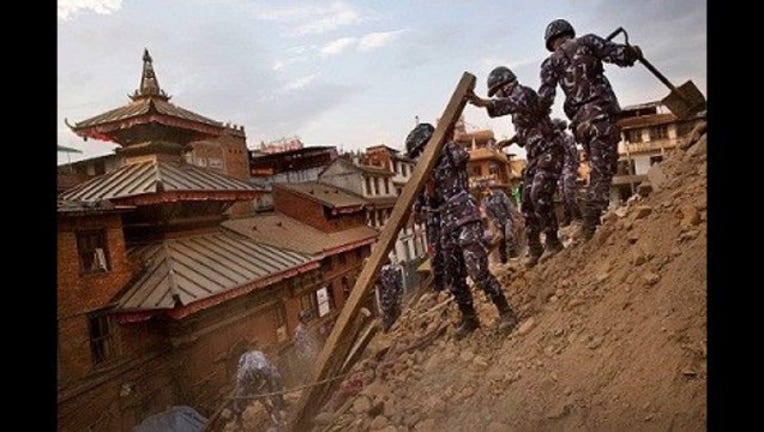 article
KATMANDU (KTVU & AP) -- A magnitude-7.8 earthquake devastated Nepal and the Katmandu Valley region, leveling buildings and killing more than 8,000 with the death toll continuing to rise.
Aid groups worldwide have mobilized to help. Here's a look at humanitarian efforts underway and links on how to donate online:
CROWDRISE
Friends of Google executive Dan Fredinberg who was killed at Mt. Everest base camp created this website in his honor. Fredinberg was climbing Everest to raise money for 2 Nepalese orphanages. This website carries on that mission.
UNICEF
The U.N. children's agency, UNICEF, says nearly 1 million children in Nepal need help. UNICEF says it is preparing two cargo flights with a combined 120 tons of humanitarian supplies including medical and hospital supplies, tents and blankets, for urgent airlift to Katmandu.
WORLD FOOD PROGRAM
The U.N. World Food Program says logistics and emergency response teams have arrived in Katmandu.
RED CROSS
The International Committee for the Red Cross says it is working with the Nepal Red Cross Society and has a team working on emergency response.
MERCY CORPS
Mercy Corps warns that prices for essential supplies in Nepal are rising quickly. The group says it is working with the Nepal Red Cross Society to help distribute essential household supplies, shelter kits and tarpaulins. Mercy Corps has 90 staffers on the ground in Nepal, some of whom have lost their homes in the quake.
SAVE THE CHILDREN
Save the Children says it has staff in 63 districts and emergency kits, hygiene materials and tarpaulins already in Nepal and ready for distribution. Additional supplies and emergency recovery teams are being flown in.
OXFAM
Oxfam says its team in Nepal is assessing needs and it is sending emergency food, water and sanitation supplies. "Communication is currently very difficult. Telephone lines are down and the electricity has been cut off making charging mobile phones difficult. The water is also cut off," country director Cecilia Keizer says in a statement.
DOCTORS WITHOUT BORDERS
Doctors Without Borders, also known as Medicines Sans Frontiers, says it is sending medical staff and supplies to Nepal, including emergency surgical teams.
JDC
The American Jewish Joint Distribution Committee (JDC) is providing relief and medical supplies and sending a disaster relief team.
SAMARITANS PURSE
The Christian aid organization has deployed a disaster relief team and initial supplies for 15,000 households to support partner hospitals.
LUTHERAN WORLD RELIEF
The Lutheran aid group is on the ground trying to meet basic needs such as the distribution of water filtration units and quilts.
CARE
The humanitarian organization that fights global poverty is on the ground in Nepal.
WORLD VISION
The Christian aid organization is on the ground assessing the disaster in Nepal.
PAYPAL GIVING FUND
The web payment company announced it was waiving fees for donations to the Nepal relief effort. It was delivering donations through its PayPal Giving Fund to several of the aid groups listed above, among others.