How to stop squirrels and other animals from eating your pumpkins
It's that of year again – you and your family spend time carving the perfect pumpkin to decorate for fall and Halloween only to find that squirrels and other critters are munching on your hard work.
It's frustrating to have wildlife making a meal out of your carved pumpkins, but there are some tips and tricks to try and squirrel-proof your spooky holiday decor.
WHY IS THE PUMPKIN A SYMBOL OF FALL AND HALLOWEEN?
What to put on pumpkins to keep squirrels and other animals away
There are a few different things you can do to try and keep squirrels and other animals away from your pumpkins.
One way is to buy an animal repellent that you would use in a garden, or you can make your own.
According to The Pioneer Woman, if you're a pet owner, you can use their fur to your advantage. Cats and dogs are natural predators of squirrels, so you can put their fur or something covered in their fur around the base of your pumpkin to try and keep pests away.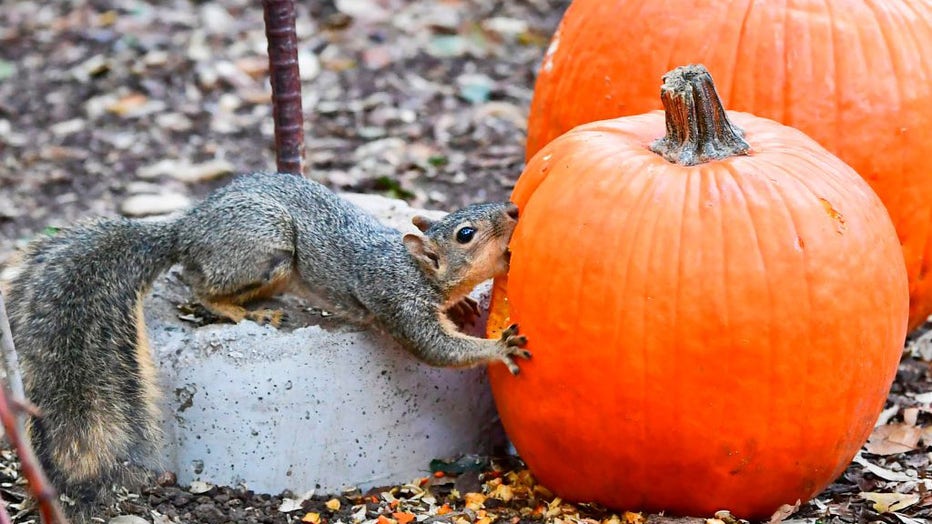 FILE - A squirrel bites into a pumpkin in La Canada Flintridge, California. (Photo by FREDERIC J. BROWN/AFP via Getty Images)
You can also cover the gourd in a thick layer of petroleum jelly, which will not only deter squirrels from eating your pumpkin, but it will also prevent the carved edges from rotting quickly.
HEAT IS ENEMY NO. 1 TO YOUR JACK-O'-LANTERN
According to David Hillock, a consumer horticulturist with Oklahoma State University's Department of Horticulture & Landscape Architecture, capsaicin is probably the most effective deterrent.
Capsaicin is the chemical in chili peppers that makes them spicy. So, you could sprinkle cayenne pepper on the pumpkin. You can also blend crushed red pepper with water and a drop of dish soap to spray on the pumpkins as well, according to the Bob Vila website.
MISSOURI MAN LIKELY SQUASHES WORLD RECORD FOR LONGEST JOURNEY BY PADDLING IN PUMPKIN BOAT
Looking for something else to use to try and keep rodents away from your pumpkins? Martha Stewart's website says some essential oils like peppermint and eucalyptus oil could keep animals at bay.
Vinegar, too, is also thought to be a deterrent for squirrels and other animals due to the strong scent, according to Martha Stewart's website.
It's also a good idea to remove all seeds and strings from the inside of a pumpkin. That could make it less tempting for scavengers, according to BobVila.com.
WHEN IT IS METEOROLOGICALLY OK TO DRINK A PUMPKIN SPICE LATTE
If that doesn't work, you can always just keep your pumpkins inside where they're safe from animals.
"If the pumpkins are in a small garden and there are only a handful, they could build cages out of a woven wire mesh and secure it over the pumpkins," Hillock said. "If they are on the porch, carved or not, taking them indoors (or in a garage) during the day or when no one is around can reduce damage."