Hundreds rally in Philadelphia to protest Baltimore death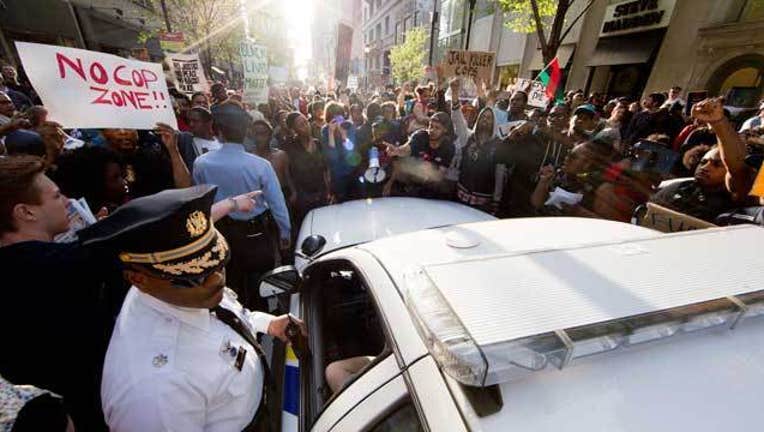 article
PHILADELPHIA (AP) — Several hundred people gathered at City Hall in Philadelphia to protest Freddie Gray's police-custody death in Baltimore and raise concerns about police and community relations in their own city.
Chants of "No justice, no peace," and "Black lives matter" filled Dilworth Plaza late Thursday as news helicopters hover overhead. Several dozen uniformed police officers stood guard while plainclothes officers patrolled nearby.
Damon Johnson, a veteran and former city employee, spoke up at the rally about the country's spending priorities.
"Why would you cut after-school programs and build a juvenile jail?" he asked the crowd.
The event in Philadelphia follows days of unrest in Baltimore after Gray's death. He died from a spinal injury a week after his April 12 arrest.
Police in Baltimore completed their investigation into his death Thursday and sent it to the city's chief prosecutor to weigh charges. They also disclosed that the van carrying Gray after his arrest made four stops before it reached the police stations, where he was found unresponsive.
Some at the Philadelphia rally raised concerns about the December death of Brandon Tate-Brown, who was fatally shot by police. Police have said he was reaching in his car for a gun when an officer shot him, and the city district attorney has declined to press charges.
His mother, Tanya Brown-Dickerson, filed a lawsuit Tuesday alleging officers planted the gun. She wants police to turn over surveillance video and the names of the officers involved.
"The minute I get the video I want the world to see it," she said at thePhiladelphia rally. "It's killing me not to show everybody the pictures of my son's body. They beat the hell out of my baby."
Twenty-year-old Tiffany Williams, who is black, held up a sign reading: "Stop killing us."
"We don't feel protected. The people, they feel afraid. All we want is for the police to take care of the community instead of taking from us," Williams said.
"Just like back in the day, our mothers our fathers, they went through a revolution for us," she added. "Now it's time for us to speak up."
Amalek Rogers also carried a sign, which read: "Equal justice for all, including me."
"It starts with a protest, peaceful protest. You're not given what you don't ask for," she said.