Hurricane hunters fly missions to California to study atmospheric river amid powerful storm
LOS ANGELES - An atmospheric river, which has unleashed heavy rain, life-threatening flooding and howling winds across California, is keeping hurricane hunter aircraft busy on the West Coast. 
"The Air Force Reserve 53rd Weather Reconnaissance Squadron has forward deployed for Atmospheric Rivers missions operations and are stationed at Mather Air Field," a spokesperson with the 403rd wing of the U.S. Air Force confirmed to FOX Television Stations Thursday. Mather Air Field is located in Sacramento County, California.
An expanded Atmospheric River Reconnaissance program began in November as a result of an unexpected "bomb cyclone" in October 2021 that hit North America's West Coast, followed by another atmospheric river less than a month later that caused severe flooding in Washington.
"Our NOAA Gulfstream IV is scheduled to start flying missions on Friday from Honolulu, Hawaii to study these atmospheric rivers events," Jonathan Shannon, a spokesperson at NOAA's Aircraft Operations Center in Florida, also told FOX.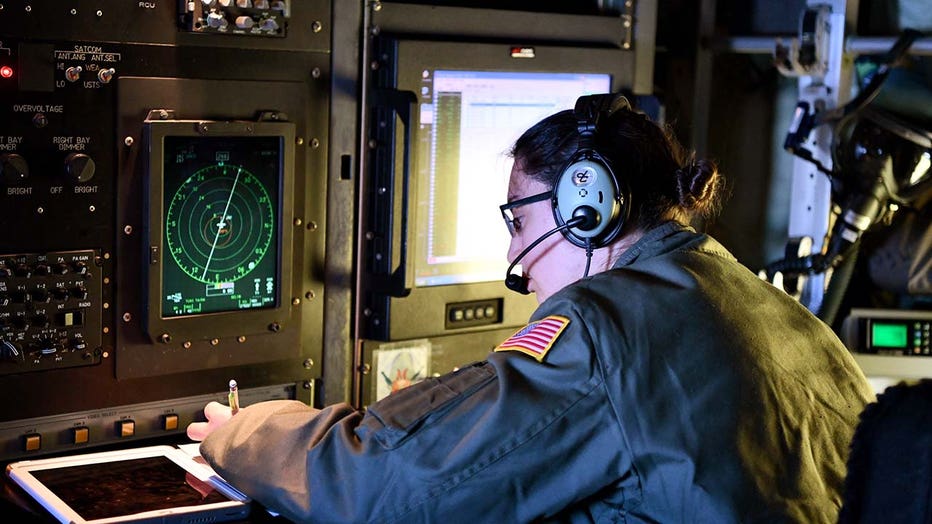 Maj. Sonia Walker, aerial weather reconnaissance officer for the 53rd Weather Reconnaissance Squadron at Keesler Air Force Base, Miss., writes down coordinates after a dropsonde deployment during a flight from Reno-Tahoe International Airport, Nev.,
According to a spokesperson with the Scripps Institution of Oceanography at UC San Diego, these flights carefully plot areas of the storm to deploy dropsondes, which collect key data on temperature, pressure, water vapor and winds. These data then feed into global forecast models to improve the precipitation and landfall forecasts of these storms. 
Additionally, research teams from the Center for Western Weather and Water Extremes are launching weather balloons (radiosondes) from locations in Bodega Bay and Marysville, California every three hours during the storm. 
"Improving forecasts of atmospheric rivers is crucial to water resilience in California as the state vacillates between drought and flood," the spokesperson noted.
A program observing atmospheric rivers kicked off in 2016, and in subsequent years more resources have been devoted to the efforts, including two WC-130J Super Hercules aircraft for the 2022-23 winter season.
These aircraft are widely known to fly through hurricanes, but when the U.S. is out of the heart of the tropical cyclone season, the planes are playing an increasingly vital role to keep forecasters abreast of subtle changes in the atmosphere over the eastern Pacific.
Bomb cyclone, 'pineapple express' impact California
More than 180,000 homes and businesses were without power in California early Thursday, according to poweroutage.us.
RELATED: Toddler, teen driver, others killed across Northern California during deadly storm
Meteorologists warned the Golden State was facing a life-threatening double whammy of a bomb cyclone and a "pineapple express." A bomb cyclone is a rapidly strengthening storm system, where its pressure decreases at least 24 millibars in 24 hours.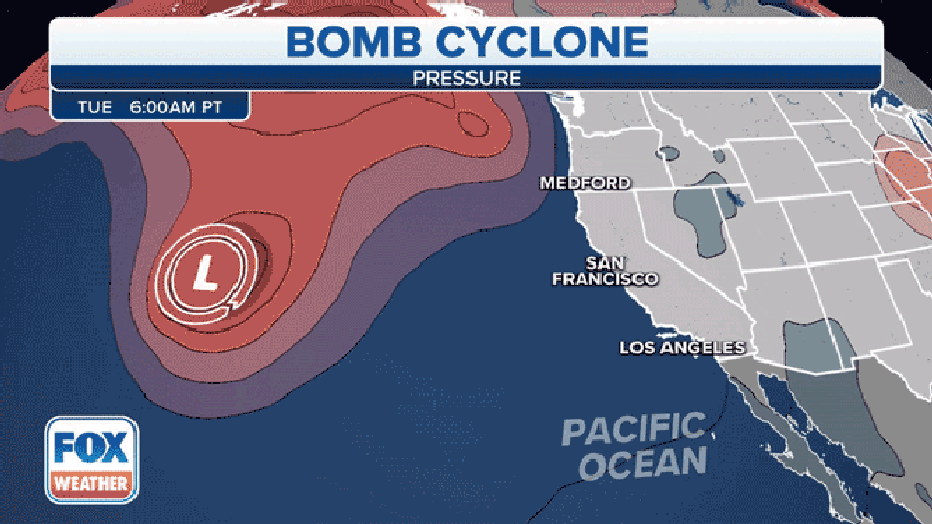 This animation shows the rapid strengthening of a low-pressure system as it approaches the West Coast. This system has become what is known as a bomb cyclone. / FOX Weather
Powerful winds gusting to 85 mph or more forced the cancellation of more than 70 flights at San Francisco International Airport and downed trees and power lines. Firefighters rescued a family after a tree fell onto their car. The fire department reported "large pieces of glass" fell off the Fox Plaza tower near the Civic Center, although no injuries were reported. It was "highly possible" the damage was wind-related, the department tweeted.
Gov. Gavin Newsom declared a state of emergency Wednesday to protect Californians by supporting emergency relief efforts and essentially keeping an "all hands on deck," mentality. 
What is an atmospheric river?
Atmospheric rivers are streams of water vapor that carry 25 times the water equivalent of the Mississippi River. 
Flowing at an altitude of about 10,000 feet, atmospheric rivers average between 100 and 500 miles wide and 2,000 miles long. Where they hit the West Coast determines where heavy rain, snow, and flooding occurs. 
RELATED: 'Bomb cyclone' wreaks havoc in Southern California
Atmospheric rivers are also critical to water supply, and improved forecasts of where atmospheric rivers will make landfall are vital for more effective management of reservoirs. 
An atmospheric river is sometimes called a "pineapple express" because the system originates and its moisture builds up near the Hawaiian Islands.
This story was reported from Los Angeles. KTVU and FOX Weather contributed.