Hyundai recalls 65,000 cars over possible exploding seatbelt pretensioners
Hyundai is recalling more than 65,000 vehicles for an issue that may cause seat belt pretensioners to explode in a crash, potentially injuring occupants of the car, U.S. transportation officials said.
A seat belt pretensioner is a part of the seat belt system that locks the seat belt in place during a crash. 
Over-pressurization of the pretensioner could cause them to explode in certain crashes. If it does rupture, the pretensioner could release shrapnel – causing abrasions or other injuries to passengers, according to documents posted this month by the National Highway Traffic Safety Administration.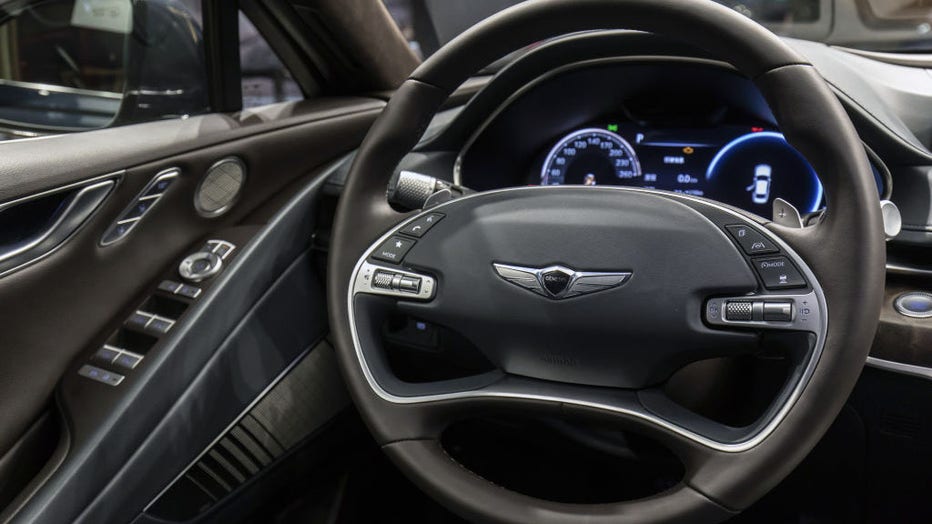 FILE IMAGE - The steering wheel of a Hyundai Motor Co. Genesis G80 sedan on display at the Genesis Studio in Shanghai, China, on Feb. 10, 2022. Photographer: Qilai Shen/Bloomberg via Getty Images
A total of 65,517 Genesis SUVs and sedans, Hyundai's luxury brand, are part of the recall. 
They include: 
9,720 model year 2021-2023 Genesis G80 vehicles
940 model year 2023 Genesis GV60 vehicles
21,917 model year 2022-2023 Genesis GV70 vehicles
32,940 model year 2020-2023 Genesis GV80 vehicles
Owners of affected vehicles were expected to be notified by mail starting April 17 with instructions to bring their vehicles to a Genesis dealer to have the seat belt pretensioner's micro gas generator and delivery pipe "secured with a cap" to prevent a potential rupture.
Owners will be offered a free repair, regardless of whether the affected vehicles are still covered under Genesis's New Vehicle Limited Warranty, according to NHTSA documents.
Until then, drivers can also visit the NHTSA's recall page and enter their VIN to see if their vehicle is impacted.
Other recalls have been made in the past for similar pretensioner ruptures. Last August, the NHTSA's Office of Defects Investigation (ODI) opened a query into seat belt pretensioners on certain 2020-2022 Kia/Hyundai vehicles.
The ODI at the time said it was aware of three separate incidents of possible faulty seat belt pretensioners. In all three incidents, the driver-side seat belt pretensioner deployed abnormally, causing metal fragments to enter the rear cabin resulting in injuries to the backseat occupants.
Hyundai and Kia issued five separate recalls from October 2021 to April 2022 concerning pretensioner ruptures.
Meanwhile, Nissan also recalled more than 809,000 small SUVs this month in the U.S. and Canada because a key problem can cause the ignition to shut off while they're being driven.
That recall covers certain Rogues from the 2014 through 2020 model years, as well as Rogue Sports from 2017 through 2022.
RELATED: Owners of nearly 341,000 Ram trucks told to park outside over fire risk
This story was reported from Cincinnati. The Associated Press contributed.