ICE arrests 50 Bay Area gang members as part of nationwide operation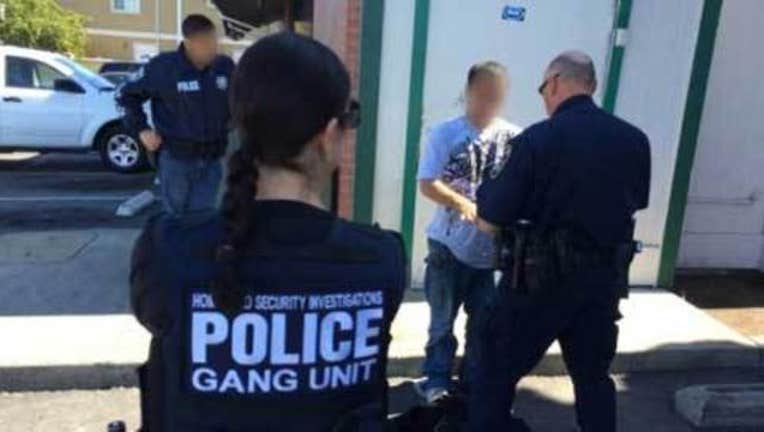 article
SAN FRANCISCO (KTVU) -- Nearly 1,000 gang members and associates -- including 50 individuals from the Bay Area -- were taken into custody as part of Project Wildfire, a nationwide six-week operation targeting transnational criminal gangs.
The sweep was led by U.S. Immigration and Customs Enforcement's (ICE) and Homeland Security Investigations (HSI).
Project Wildfire, which ran from Feb. 23 through the end of March, led to the arrest of individuals tied to four different street gangs in the Bay Area, including the Norteños, Sureños, Border Brothers and Skinheads.
All 50 of the individuals taken into custody locally are being prosecuted on state criminal charges, including various drug, weapons and parole violations.
Statewide, Project Wildfire led to the arrest of 178 gang members and gang associates, including 87 individuals in the Los Angeles area and 28 in the Imperial Valley.
For the Bay Area portion of the Project Wildfire surge, special agents and officers from the Oakland Police Department executed a state search warrant March 11 at the home of a known gang member.
The warrant led to the discovery of an AK-47 assault rifle, four semi-automatic handguns, numerous rounds of ammunition and over six pounds of cocaine. The target of the investigation was taken into custody on state drug and weapons charges.
Meanwhile, in a joint operation conducted March 27, HSI special agents, the Hayward Police Department, and state and local probation and parole personnel arrested 13 individuals, primarily members of the Norteños street gang, and seized three handguns.
Nationwide, HSI special agents worked with more than 200 state, local and federal law enforcement partners to apprehend individuals from various gangs.
Of the 976 gang members or associates arrested: 913 were charged with criminal offenses and 63 were arrested administratively for immigration violations; 650 had violent criminal histories, including 19 individuals wanted on active warrants for murder and 15 for rape or sexual assault.
In addition to the arrests, Project Wildfire resulted in the seizure of more than 80 firearms.