Innocent woman shot at Lake Merritt is 'most loving creature' on planet
OAKLAND, Calif. - The innocent woman shot on Labor Day while walking along Lake Merritt in Oakland "is the most loving creature on the planet," her friend wrote, and will need help as she recovers. 
Friend Karly Pearson organized a GoFundMe for Kylee Kienitz, who is in her 20s and was caught in the crossfire of a gun battle on Monday when a stray bullet struck her about 12:30 p.m., as hundreds of people visited the popular lake . People in two white Lexuses had been shooting out their windows, police said.
Kienitz was shot in the hip, her friend said.
She is on the road to recovery, but her small business, Heads or Tails, a small artist collective on Piedmont Avenue, will need "extra support to keep going during her healing."
A photo showed Kienitz making a heart shape wit her hands in the hospital.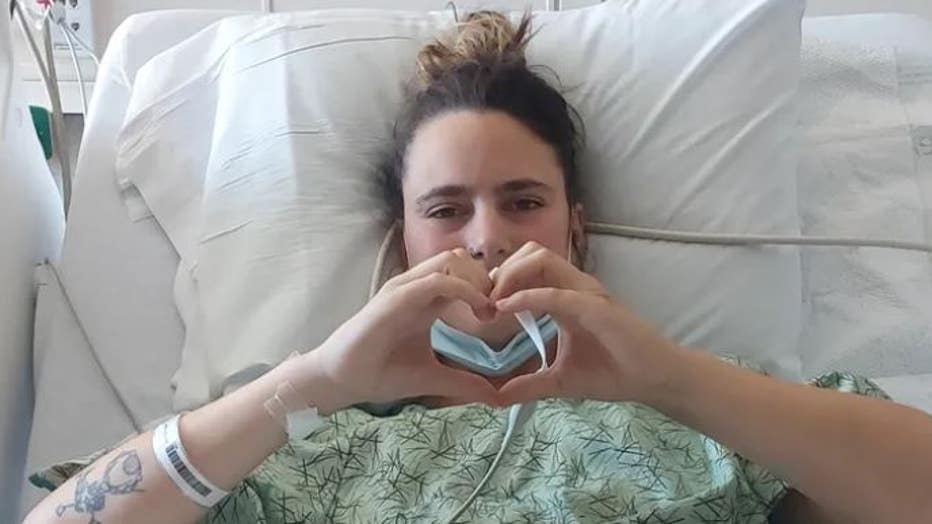 Kylee Kienitz was shot at Lake Merritt. Photo: GoFundMe
Jason Beebout, owner of the Golden Bull Bar in downtown Oakland, says Kienitz helps him manage the business, and she is missed.
"She's a super effervescent kind of person, always dresses a floral patterns," Beebout said. "She's just awesome. People come here to see her. They look forward to her being here. You can tell it's kind of dark in here. She brightens the spot up."
Beebout said he has spoken with Kienitz and that she's in pain but on the road to recovery.
Neighbors described Lake Merritt as the heart and soul of Oakland and to have a shooting like this happen is disturbing.
One neighbor said many people in the area rushed to help the woman and said that speaks to what's good about this city.  
Kienitz is just the latest innocent victim of gun violence – and the second person in less than three months to be shot near Lake Merritt.
In July, an 8-year-old boy named Asa was riding in his family car off I-580 at the Grand Avenue exit when he was struck by flying bullets.
The California Highway Patrol said people in two cars had been shooting at each other on the freeway and the 8-year-old – riding in an uninvolved car with his family – was hit by the gunfire. The suspect vehicles sped away and so far, there's been no word on their arrests.
Bullets from that gunfire, as well as bone fragments, lodged in Asa's spinal column near his neck, his parents said, and he is paralyzed from the neck down.
For their part, Kienitz's friends are hoping that she will soon be released from the hospital. 
"We all know how much she gives her energy and positivity to the world," her friend wrote, "and how much she will appreciate feeling your love coming back to her."
IF YOU'RE INTERESTED in helping, click here