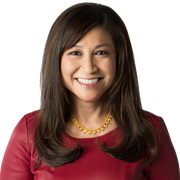 I am a proud native San Franciscan. I speak fluent Cantonese, thanks to my parents who immigrated here from China and Hong Kong. As a child, I loved reading, writing and watching the news. I graduated from Lowell High School and San Francisco State University. My fifth grade teacher and my high school English teacher were influential in encouraging me to pursue a career that emphasized writing. I consider myself very lucky because I knew early on what I wanted to do in terms of a career. My curiosity, thirst for knowledge, and love of people led me to a career as a journalist. My first reporter job took me to a television station in Reno where I quickly learned how a city relatively close to the Bay Area could be so different. My next stop was the Monterey-Salinas-Santa Cruz area where I reported and anchored. Before I knew it, I was back in the Bay Area where I always wanted to be. When I first returned, I was a reporter for another television station in San Francisco and I was a part-time correspondent for CNN in the San Francisco Bureau. In 1997, I joined KTVU and it was a dream come true. I love the challenge of getting "exclusives" such as my jailhouse interview with "Shrimp Boy. " Being a general assignment reporter, I get to cover a wide range of stories: from breaking news to features. Winning awards such as the Emmys and Edward R. Murrow are great, but what I find most rewarding is when people are willing to share their stories with me. When I'm not at work, I enjoy spending time with my family and friends, and of course, shopping. I'm also a huge dog lover.
The latest from Amber Lee
San Francisco police are offering a $25,000 reward for help in solving a cold case homicide of a homeless woman and her friend from three years ago.
Leif Dautch has served as California deputy state attorney general for seven years.