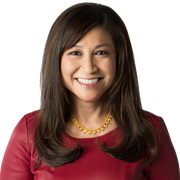 Amber is a proud native San Franciscan who grew up in the Mission neighborhood. She speaks fluent Cantonese thanks to her parents who immigrated to the U.S. from China and Hong Kong. Amber graduated from Lowell High School and San Francisco State University. 
Her first reporter job took her to a television station in Reno where she quickly learned how a city relatively close to the Bay Area could be so different. Her next stop was the Monterey-Salinas-Santa Cruz area where she reported and anchored. Amber returned to the San Francisco Bay Area as a part-time correspondent for CNN in the San Francisco Bureau. She joined KTVU in 1997. 
Amber's exclusive jailhouse interview with SF Chinatown Gang leader, Raymond Chow, a.k.a. "Shrimp Boy," was one of her greatest challenges, however, she takes great pride in the relationships she's built with people in the community. 
When she's not at work, Amber enjoys spending time with her family and friends, shopping and eating. She is a Chinese and Korean drama addict and a huge dog lover.
The latest from Amber Lee