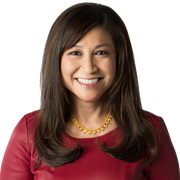 I am a proud native San Franciscan. I speak fluent Cantonese, thanks to my parents who immigrated here from China and Hong Kong. As a child, I loved reading, writing and watching the news. I graduated from Lowell High School and San Francisco State University. My fifth grade teacher and my high school English teacher were influential in encouraging me to pursue a career that emphasized writing. I consider myself very lucky because I knew early on what I wanted to do in terms of a career. My curiosity, thirst for knowledge, and love of people led me to a career as a journalist. My first reporter job took me to a television station in Reno where I quickly learned how a city relatively close to the Bay Area could be so different. My next stop was the Monterey-Salinas-Santa Cruz area where I reported and anchored. Before I knew it, I was back in the Bay Area where I always wanted to be. When I first returned, I was a reporter for another television station in San Francisco and I was a part-time correspondent for CNN in the San Francisco Bureau. In 1997, I joined KTVU and it was a dream come true. I love the challenge of getting "exclusives" such as my jailhouse interview with "Shrimp Boy. " Being a general assignment reporter, I get to cover a wide range of stories: from breaking news to features. Winning awards such as the Emmys and Edward R. Murrow are great, but what I find most rewarding is when people are willing to share their stories with me. When I'm not at work, I enjoy spending time with my family and friends, and of course, shopping. I'm also a huge dog lover.
The latest from Amber Lee
The footage is giving her friends renewed hope they will find her safe.
A Redwood City firefighter is suing the department he works for, alleging racial discrimination.
Family, friends, and elected leaders gathered in front of a slain 6-year-old's family home in the Bayview for a vigil on Tuesday night.
A fire that burned close to homes caused a scare among people who live and work in the Cordelia area of the Fairfield Monday afternoon. 
His parents, Jose Jaime and Gabriala Covarruvias, have filed a federal civil lawsuit against the Alameda County Sheriff's Department for wrongful death.
"He's taken two-thirds of my life from me," said Michelle Martin who was 23-years-old in 1978 when she was assaulted in her Contra Costa County home. "When he said guilty, it felt good. It did." 
The display has been a part of the pride celebration for 25 years. But this year, for the first time, it's gone electric.
A Vallejo man is speaking out after finding racist graffiti spray painted at Blue Rock Springs Park where he takes his daily walks.
The incident happened around 3:41 p.m. in the 200 block of Leavenworth street.