8-year-old shot on Oakland freeway paralyzed, family says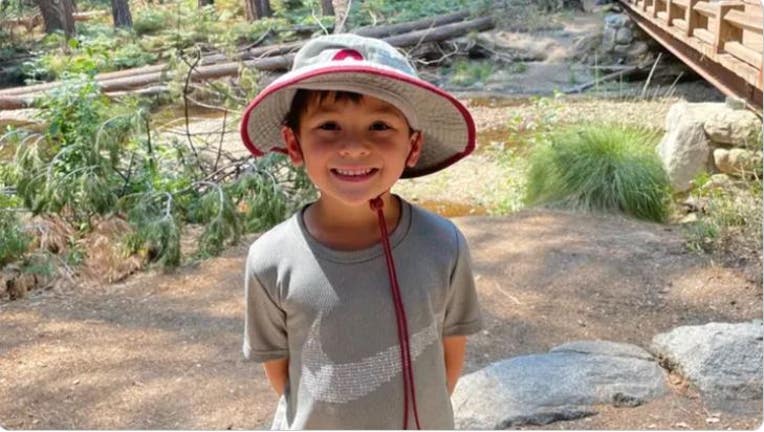 article
OAKLAND, Calif. - An 8-year-old boy caught in the crossfire of a freeway shooting in Oakland is now paralyzed, his family said, and despite the medical care that he'll likely need for the rest of his life, continues to make them laugh and be their source of inspiration. 
Asa was struck by a stray bullet while riding in the family car July 14 just before 6:30 p.m. on Interstate Highway 580 near Grand Avenue, his family and friends explained in a GoFundMe.
Asa had just been picked up from camp and the family was on their way to dinner with grandparents – a weekly tradition on Friday night – when the shots rang out. 
The California Highway Patrol said people in two cars had been shooting at each other on the freeway and the 8-year-old – riding in an uninvolved car with his family – was hit by the gunfire. The suspect vehicles sped away and so far, there's been no word on their arrests. 
Bullets from that gunfire, as well as bone fragments, lodged in Asa's spinal column near his neck, wrote Asa's parents, Melissa Neuwelt and Caesar Luo, who requested not to be contacted by the media. 
As a result, "his body is forever changed," his parents wrote, and he is experiencing "complete paralysis" below the neck. They said that Asa will require a mechanical respirator, tube feeds for nutrition, and 24-hour, around-the-clock nursing care.
Though devastated, his parents said they are grateful their son – a soccer enthusiast, math wizard, and devoted brother – is alive.
Not only that, his parents said, but he is making them laugh, reading books and requesting songs by Imagine Dragons. 
"His intellect, his spirit, and his love of life are very much intact," his parents wrote. 
Asa's parents were very specific in their needs, saying it will likely cost $250,000 to enable a smooth homecoming for their son. 
They need to modify their home with platforms, a hospital bed and a generator to keep his ventilator on. They also need a power wheelchair and a wheelchair accessible van, as well as educational assistive devices. 
"Never in a million years could we have predicted how Asa's life – and all of our lives – would change so quickly, and completely," his parents wrote. "We are grieving, grateful and angry."
They're angry because their son is "yet another innocent victim of senseless gun violence," his parents wrote. 
In fact, Asa is one of at least seven children in to have been shot on Bay Area freeways since 2021.
Freeway shootings in the nine Bay Area counties have gone up since 2021, according to an analysis of California Highway Patrol data. 
Despite their anger, Asa's parents did not talk of arrests or stiff charges if police ever find who fired the shots that paralyzed their son.
Instead, his parents urged people who wanted to effect change and prevent more gun violence to support Youth Alive in Oakland, as well as Moms Demand Action and Everytown for Gun Safety. 
"Once we've wrapped our minds around our new lives with Asa," his parents wrote, "we'll be ready to join you all in the fight to stop this from happening to any other child, ever again."
IF YOU'RE INTERESTED in helping, please click here.