Issa's retirement hints at GOP's woes in California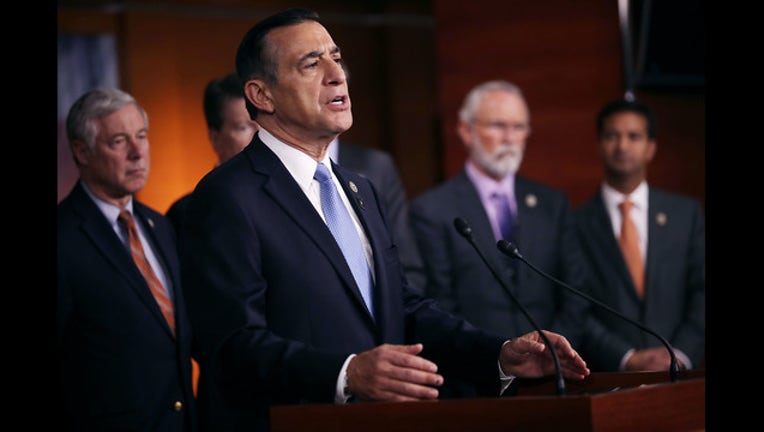 article
WASHINGTON (AP) - Rep. Darrell Issa of California announced Wednesday that he will not seek re-election, the latest sign that Republicans could face another grim year at the ballot box in the nation's most populous state.
With his decision to step aside after nine terms, Issa joins a string of GOP lawmakers who are retiring rather than take on what would be difficult re-election battles.
The risks for Republicans are especially acute in California, where the party has been fading away for years. Democrats hold every statewide office and control both chambers of the Legislature by hefty margins. In the 2016 presidential election, Democrat Hillary Clinton crushed Republican Donald Trump in the state by more than 4 million votes.
Democrats with plans to retake control of the House hope to oust a handful of California Republicans whose districts Clinton carried. Issa's seat, the coastal 49th District north of San Diego, is among them.
In San Clemente, a hillside city overlooking the Pacific Ocean that was home to Richard Nixon's Western White House, voters greeted Issa's announcement with sadness or relief, reflecting the closely divided politics of the district.
"That's like a Christmas present," said Donna Martin, a retired community college teacher and registered Democrat.
But Tanya Johnson, also a retired teacher, said she would be disappointed to see Issa leave, crediting him with keeping an open door for constituents. She recalled sending Issa an email expressing her concerns about the recent federal tax overhaul, and Issa responded. He voted against the proposal, saying residents in his district could see higher taxes.
"I really believe he ... cared," said Johnson, a Republican.
Democrats had made defeating Issa one of their top priorities for 2018.
The risks were obvious for the incumbent. Issa survived by about 1,600 votes in his last election and Democratic challengers have lined up to take him on in a midterm election that generally favors the party not in control of the White House.
Moreover, his ties to Trump in a state where the president is unpopular would almost certainly increase his vulnerability.
Issa would have been defending a district whose demographics have shifted  during his time in office, reflecting California's Democratic tilt.
About a decade ago, Republicans held a 20-point registration advantage over Democrats in the 49th Congressional District, which includes wealthy seaside enclaves north of San Diego but also densely packed, diverse suburban communities. That double-digit margin has dwindled to single digits, while the number of independents who tend to vote Democratic has soared.
The last Republican presidential candidate to carry the state was George H.W. Bush, in 1988. Statewide, Republicans account for only 1 in 4 voters, while Democrats count a 3.7 million edge in voter registrations. 
California was once known as a launching pad for national Republican candidates like Nixon and Ronald Reagan. But a surge in immigrants transformed the state and its voting patterns. The number of Hispanics, blacks and Asians combined has outnumbered whites since 1998. Meanwhile, the state's new voters, largely Latinos and Asians, lean Democratic.
In Congress, Issa oversaw the House Oversight and Government Reform Committee from 2011 to January 2015. Going into his tenure as chairman, Issa said the Obama administration was perhaps one of the most corrupt in history. 
He dogged President Barack Obama with probes into the 2012 killings of four Americans in Benghazi, Libya, and the IRS treatment of conservative groups. He also took the lead in investigating the so-called Fast and Furious operation, in which federal agents allowed criminals to buy guns with the intention of tracking them to criminal organizations. The Bureau of Alcohol, Tobacco, Firearms and Explosives lost most of the guns, including two that were found at the scene of the death of a U.S. Border Patrol agent. Issa and fellow Republicans slammed Attorney General Eric Holder for years over the scandal.
Obama did not forget Issa's slights in 2016 during a campaign swing through California as he raised money for Democratic candidates. "This guy has spent all his time simply trying to obstruct, to feed the same sentiments that resulted in Donald Trump becoming their nominee," Obama said, then noting that somebody told him "Darrell Issa was Trump before Trump."
Issa's announcement followed that of Rep. Ed Royce, the Republican chairman of the House Foreign Affairs Committee, who said Tuesday that he would not seek a 14th term.
A central battleground in the fight for the House will be Orange County, a one-time Republican fortress where Democrats have made inroads. Democrats think they can flip control of as many as four House seats that are all or partly in the county, including the seats held by Royce and Issa.
National Republicans said they weren't giving up on retaining the two California seats. GOP officials said the party has solid recruits in both races. They're also holding out hope that so many Democrats are running in each race that it will divide the party's voters and enhance the GOP's prospects.
Under California's election rules, known as the "jungle primary," the two candidates who advance to a November runoff are the top vote-getters regardless of party.
"With the jungle primary, they will cannibalize each other's votes and make it easier for a Republican to get to the general election," said Rep. Steve Stivers, the chairman of the National Republican Congressional Committee. "Then we just have to win the general election."
But Democrats were gleeful over the retirements and what it could mean in reaching the 24 GOP-held seats they need to win in order to take control of the House.
"We'll keep a watchful eye on both of these congressional districts to see which Republicans come forward, but in the end, these retirements do not bode well for our Republican colleagues" said Rep. Ben Ray Lujan, D-N.M., and chairman of the campaign arm of the Democrats in the House.