Jenna Bush Hager pays tribute to her grandfather, 'giant of a man who gave me everything'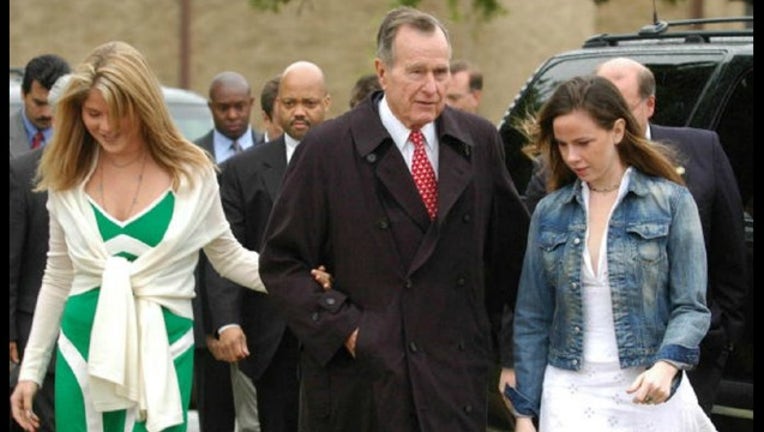 article
(KTVU) - George H.W. Bush's family is remembering the 41st president as a "giant of a man" who exemplified decency and dedicated his life to the ones he loved and to serving the country he loved so much.
Bush's granddaughter, Jenna Bush Hager has been sharing her tributes to her grandfather through pictures and words.
On Monday, the Today correspondent posted a touching photo of one of her children hugging the former president and described how grateful she was that her own daughters got to know "Gampy," whom she described as a "principled, humble, kind man who we all loved fiercely and who loved us back."
George H.W. Bush died late Friday at his home in Houston at the age of 94. His death came eight months after the family lost its matriarch, Barbara Bush. The couple was married for 73 years.
On Saturday, Bush Hager took to Instagram and wrote of an intimate conversation she had with her grandfather about the afterlife. She described how he told her that he was no longer scared or worried about dying as he once was, and that he actually looked forward to it.
The words brought his granddaughter to tears, and she asked him to explain what he meant, to which he spoke of his daughter, Robin, who died of leukemia in 1953 when the child was only 3.
"'...when I die, I'm going to be reunited with these people that I've lost... I hope I see Robin, and I hope I see my mom," Jenna Bush wrote recounting her grandfather's words.
She said he continued envisioning the reunion with his beloved child saying, "'I haven't yet figured it out if it will be Robin as the three year old that she was, this kind of chubby, vivacious child or if she'll come as a middle-aged woman, an older woman.' And then he said, 'I hope she's the three-year-old.'"
Hager Bush said her grandfather always held the child he lost closely and repeated the words she's heard her "Gampy" repeat countless times, "forever knitting Robin's voice into the tightly woven fabric of our family: 'I love you more than tongue can tell,'" Hager Bush wrote. 
The moving post was accompanied by a touching cartoon created by Marshall Ramsey, editorial cartoonist for the Mississippi Clarion Ledger, an image the granddaughter said brought her comfort during this time of mourning.
The memorial illustration showed her grandfather, a former Navy pilot and World War II hero, arriving in heaven in a fighter jet, where he is reunited with his wife, and in between them, hand in hand in hand, a three-year-old Robin.
Above the drawing of Barbara Bush is a speech bubble that reads, "We waited for you."
The image has since gone viral.
In another post, Hager Bush shared sweet photographs of her and her twin sister, Barbara: one taken recently and another from years ago when they were young children, smiling and saluting, standing alongside their grandfather.
She wrote that her grandfather gave her and her family everything and said, "I will miss him desperately but so happy he and my Grandmother are back together."