Jets dominate Sharks in 5-2 victory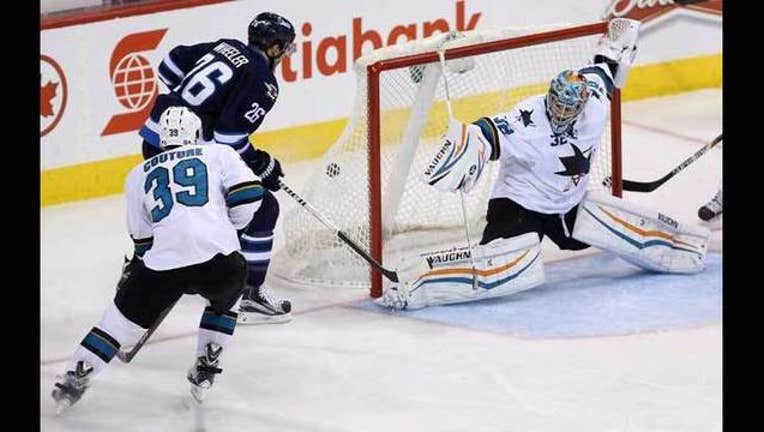 WINNIPEG, Manitoba (AP) — Ondrej Pavelec stopped 38 shots, and the Winnipeg Jets moved into a playoff spot in the Western Conference with a 5-2 victory over the San Jose Sharks on Tuesday night.
It was Palevec's second straight win and his first consecutive starts since late November. Rookie Michael Hutchinson has gotten the nod in net lately, and most of the adulation this season.
"Now is now," Pavelec said of getting back-to-back starts. "I don't care what happened before. My job is to be ready whenever I have a chance to play."
Pavelec didn't take it as a vote of confidence when coach Paul Maurice put him back in net after he backstopped Winnipeg to a 2-1 win at Tampa Bay last Saturday.
"No, that doesn't matter," he said. "If you play two games in three nights or one game in seven nights, you still have to put in the effort.
"It's nice to be back in the net, that's for sure, but that's pretty much it."
Blake Wheeler scored two goals and added an assist to fuel the Jets' offense.
With 82 points, Winnipeg is in the second wild-card position in the West. The Jets are one point ahead of Calgary, which lost to St. Louis on Tuesday, and idle Los Angeles. The Kings hold a game in hand and are third in the Pacific Division.
The Jets built a 3-0 lead in the first period on goals by Adam Lowry, Mark Scheifele and Andrew Ladd. Wheeler scored his first of the game in the second period and another in the third.
Scheifele and Drew Stafford had a pair of assists, and Ladd also had an assist for Winnipeg (35-23-12), which began a three-game homestand.
Joe Pavelski scored twice and Joe Thornton assisted on both for the Sharks (34-28-8), who started a seven-game road trip.
San Jose's Antti Niemi started his sixth straight game, but was replaced by Alex Stalock after allowing three goals on eight shots. Stalock made 12 saves.
"We've got (Niemi's) back, and he has ours," Pavelski said. "He's bailed us out plenty of times, but as a group we've got to do more."
Pavelec knows what it is like to have an off night.
The veteran goalie had taken some heat after he let in a late goal by Barret Jackman from outside the blue line in a 5-4 loss to St. Louis last Tuesday.
Hutchinson started the next game, a 4-2 loss to Florida, but Maurice put Pavelec in against Tampa Bay, and he turned aside 15 shots for the road win.
"Tonight, he got a little bit more action than he did in Tampa Bay, but when we needed him to make the big stops, he made some big ones for us," Wheeler said.
San Jose, which is five points behind Los Angeles, will play at Toronto on Thursday.
"We can sit in a corner and cry if we wanted to, but that's not going to help one bit," Sharks coach Todd McLellan said. "I said this morning if something negative happens we have to park it, and move on. We have no other option.
"So we get back to work (Wednesday), we get some energy in our group, and we start again against Toronto."
The Jets are 5-1-3 in their last nine home games. They have seven more home games in their final 12 games of the regular season.
Lowry scored his eighth goal of the season from behind the goal line with a shot that bounced off Niemi and into the net just 1:10 in.
Scheifele and Ladd added power-play goals at 9:39 and 13:01 for a 3-0 lead.
Ladd tipped in defenseman Jacob Trouba's shot from near the top of the circle for his 24th goal, tying him for the team lead with injured center Bryan Little.
Michael Frolik assisted on the goal for his 500th NHL point.
Pavelski scored at 1:06 of the second period off a rebound of Thornton's shot.
Wheeler made it 4-1 after a great wraparound effort by Stafford. The puck went under Stalock, and Wheeler poked it into the net at 7:05.
Wheeler then added his 22nd goal when a pass from Stafford across the front of the net deflected off a Sharks' stick into the air. Wheeler batted the puck past Stalock at 9:12 of the third.
Pavelski scored his 34th goal when he tipped in a Brent Burns' shot from the point at 17:35.
Wheeler extended his point streak to five games. He has five goals and four assists during that span.