Jury: Antioch man shot by deputy twice in back, chest 'not an accident'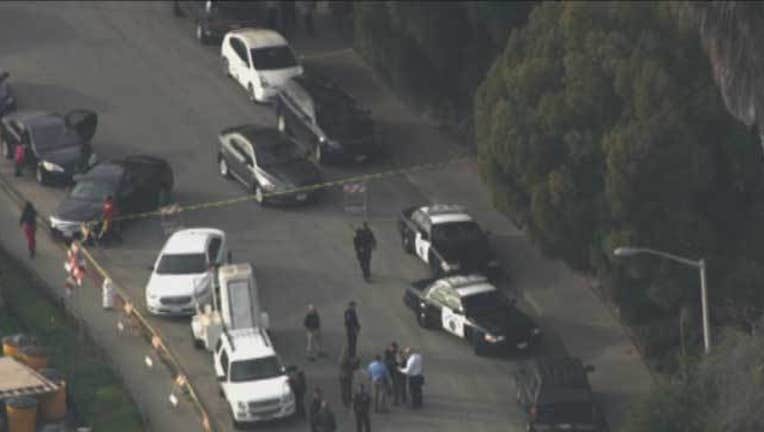 article
MARTINEZ, Calif. (KTVU and wires) -- A jury determined Tuesday that a man with a history of mental illness died at the hands of a sheriff's deputy who shot him earlier this year in Antioch, and that it was not an accident.
Deputy Scott Pliler shot Dewayne Ward Jr. three times while serving an eviction and temporary restraining order and a no-bail warrant for his arrest on Feb. 3, Pliler said at a coroner's inquest Tuesday morning in Martinez.
Ward's mother, Yolanda Alexander Dozier, initially called authorities to remove her son from her apartment, according to sheriff's deputy Sgt. Joseph Buford.
Dozier obtained the restraining and move-out orders at the end of January after she and Ward had an argument on New Year's Eve, when he punched her in the head and locked her out of her apartment, according to court documents.
"My son was sick and he had mental problems," Dozier said, adding he had been in and out of Napa State Hospital, a psychiatric facility. "He wasn't a violent person. If he had taken his meds, he would be here today."
An investigator for the district attorney's office said at the hearing that in an interview with Dozier, she said her son was hearing voices, sometimes painted his face black and would stay all day in a dark room. The symptoms were described to the deputies as schizophrenia, Pliler said.
On the day of the shooting, a supervisor and eight deputies, including Pliler, who is a K-9 officer and a member of the department's SWAT team, initially had difficulty gaining entry to the apartment, according to Pliler and Buford.
Although Dozier had given the deputies a key to the apartment, Ward used a key on the inside to prevent the deputies from unlocking the door, Pliler said.
Eventually, the deputies were able to get into the apartment, and once they did, Ward ran into the bedroom, where he barricaded himself against the door, according to Pliler.
Pliler said he tried to kick the door down twice, but could only get it to move slightly before Ward pushed it shut again. Pliler then sprayed pepper spray into a gap in the door, but he said it didn't appear to have any effect on Ward.
Once the officers were able to get the door open, Pliler said he heard someone shoot a Taser stun gun at Ward, which also didn't appear to have any effect.
With the door now open, Pliler said he entered the room and saw Ward on the ground with a butcher knife in his hand and gave his dog the command to bite Ward.
The dog bit Ward in the right forearm, but Pliler said the dog also didn't seem to have an impact on Ward, who then stood up and started swinging a knife at Pliler while dragging the dog behind him.
Pliler said he shouted twice for Ward to drop the knife or he would shoot Ward.
Once Ward was within arm's length of Pliler, Pliler shot Ward three times, he said.
"The last time he swung the knife at me, my hands were extended to hold my firearm, I had to pull my firearm into my chest to avoid being stabbed in the arm with the knife," Pliler said. "When he brought the knife back again, I extended my arms out while trying to slide out of the door, and I fired three bullets as he continued towards me."
Dr. Arnold Josselson, a forensic pathologist for the Contra Costa County coroner's office, testified that Ward was shot twice in the back, at a downward angle, and once in the left breast, at a slight downward angle.
Ward was 5 feet 11 inches tall, Josselson said, but Pliler stands well over 6 feet.
Josselson said two of the three bullets proved fatal. The first entered Ward's body on the right upper back and then passed through the right side of his chest, lung, abdomen, liver and colon before coming to rest in Ward's abdomen.
The second bullet that killed Ward entered the left side of his back and went into Ward's chest cavity, traveled through his heart, left lung, and abdomen and then came to a rest just above his liver, Josselson said.
The third gunshot wound, which was not fatal, entered Ward's left breast area and then came to a rest in his abdomen, Josselson said.
Ward fell to the deputies' feet, with the top half of his body in the hallway and the lower half inside the room, and threw the knife, which was still in his hand, away from his body, according to Pliler.
Former sheriff's deputy Detective Becky Chestnut, who was a lead investigator in the case, said the knife was later found inside the room, near a closet at the right of the bedroom door.
She said the team that served the orders also had a deputy with a police shield and a deputy with a gun that shoots beanbag, or non-lethal rounds. No one at the inquest today testified to using those tools, although Buford said he wanted to ensure every option was available to them.
Coroner's inquests are held whenever someone's death in Contra Costa County is connected to law enforcement, said attorney Matthew Guichard, who was hired by the sheriff's office to conduct the hearing.
The jury decides whether the death is a suicide, an accident, a result of natural causes or was "at the hands of another, other than by accident." They do not determine whether an officer-involved shooting was justified.
Dozier, who was there with attorney Ben Nisenbaum, said they would likely file a civil suit against the county. Nisenbaum is an associate with the law offices of John Burris, a prominent civil rights attorney.
"It's all about the conduct leading up to the shooting and how they could disregard his disability," Nisenbaum said. "Officers, when they're dealing with a person who has a disability, they're required to accommodate that disability when it's reasonable to do so."
In this case, Nisembaum said there is "very clear training" for officers who are dealing with people who are schizophrenic or are having delusions.
"You give them time," Nisembaum said. "You de-escalate, you don't escalate and you don't threaten them because you know the person doesn't react reasonably."