Klay Thompson, Warriors discuss extension that keeps the All-Star on the team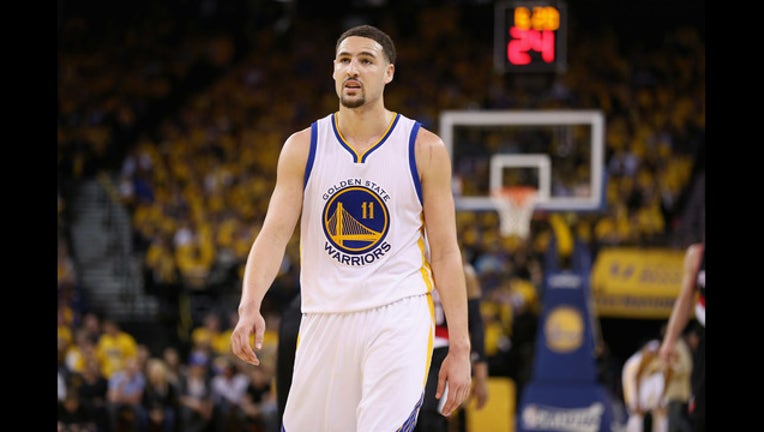 article
OAKLAND, Calif. (KTVU) - All-Star shooting guard Klay Thompson and the Warriors are working on a long-term contract extension that could keep Thompson with the team, according to The Athletic. 
Under the modified contract in discussion, Thompson wouldn't become a free agent for five years and he would take less money than if he rode out his current one through the 2018-19 season, Marcus Thompson II of The Athletic reported. 
Klay Thompson has $18.9 million coming next season. The maximum extension he can sign right now, with next year's funds taken into account, is $121 million over five years. But if he plays out his current contract, a five-year deal with the Warriors could be good for $188 million, per The Athletic. 
The Athletic also noted that Thompson wants to stay a Warrior, but if he decided to hit the open market, he could sign for a maximum four-year deal worth $139 million. And Thompson's two-way abilities – a stellar shooter and phenomenal defender – would surely generate interest across the NBA. He set career bests this season by shooting 48.8 percent from the field and hitting 44 percent of his three-pointers during the regular season while averaging 20 points, 3.8 rebounds and 2.5 assists per game. 
"I was part of building this culture. It wouldn't be leaving everything I worked for behind, but it would be a whole new start," Thompson told Bleacher Report's Ric Bucher. "I was one of the pioneers of this…it would be hard for me to envision going anywhere else."
Thompson could make more money if he leaves the Bay Area, and Philadelphia is reportedly interested in the two-time champion. But new details suggest he'll sacrifice to stay put. The extension in conversation is worth $92 million over four years. That's nearly $50 million left on the table to stay with a franchise where he is one of the longest tenured players. 
And if this were to play out, the Warriors could presumably keep their cornerstones. The likes of Draymond Green and Andre Iguodala could stick around while still dishing Steph Curry and Kevin Durant max deals.
With all the Warriors high-priced talent, this discussion was inevitably coming. And to keep the bunch from dismantling, someone has to take one for the team. Thompson could be that guy.