California's snowpack hits record high with latest Sierra storm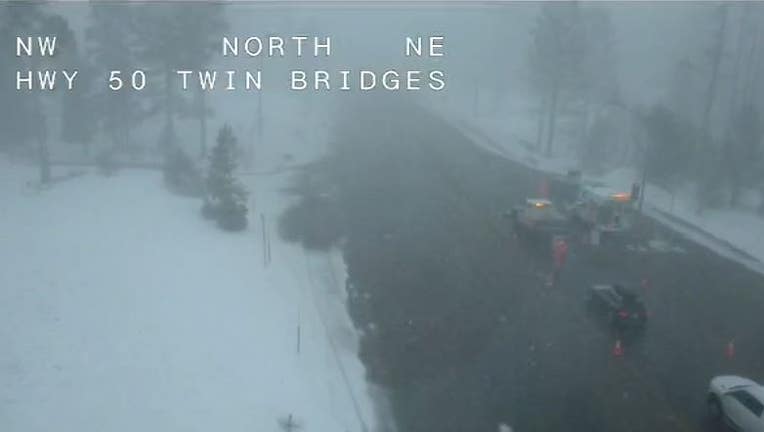 article
TRUCKEE, Calif. - The latest snowstorm to hit the Sierra on Tuesday pushed the statewide snowpack to record levels, as the powerful weather system prompted another round of avalanche and winter storm warnings. 
Tuesday's reading showed California's snowpack was 227% of average for April 1, according to the California Department of Water Resources.   
"That is higher than any other reading since the snow sensor network was established in the mid-1980s," said Sean de Guzman, manager of DWR's Snow Surveys and Water Supply Forecasting Unit.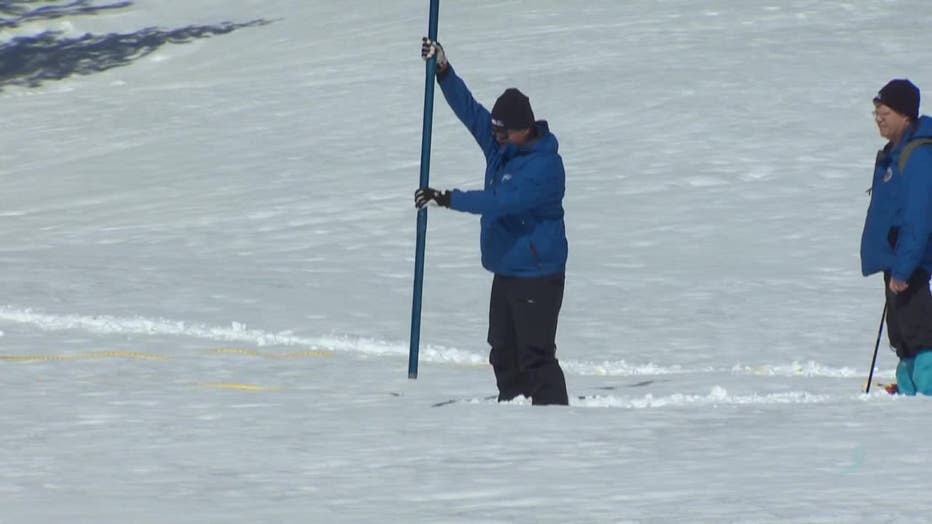 Snowpack in the Sierra Nevada was at 170% of its historical average on March 3, 2023, according to the California Department of Water Resources.  (KTVU FOX 2)
Gusman said that before the remote network was created, the record snowpack was set in 1983, showing at 227% as well.
With the increased number of snowpack survey sites over the years, he said it's difficult to accurately compare the measurements across the decades. But one thing's for sure: "This year will certainly be in the top three or four snowpack years since the 1950s," Guzman noted. 
SEE ALSO: Bay Area gets hit with its latest storm, here's what to expect
SEE ALSO: Broken glass at Salesforce East in San Francisco; rain pummels region
The National Weather Service (NWS) said as much as 19 inches of new snow accumulation was possible throughout the day and night, with wind gusts hitting as high as 40 miles per hour.
The conditions were expected to be more severe in elevations above 7,000 feet which could see 24 inches, with Sierra ridge gusts in excess of 100 mph. 
The storm was also expected to affect the waters of Lake Tahoe, leading to wave heights of up to four feet.
The NWS's winter storm warning was scheduled to last through early Wednesday morning. 
In addition, a backcountry avalanche warning covered the region, and the weather service said that any steep slope could pose a serious danger.
"A powerful storm with gale force winds and high intensity snowfall will lead to widespread avalanche activity in the mountain," the weather services said, adding, "Large avalanches could occur in a variety of areas."
The warning was expected to expire on Wednesday at 7:00 p.m.
The conditions prompted the California Highway Patrol to issue chain control requirements along Interstate 80 from Truckee to Nyack Road. Chain controls were also in effect on Highway 50 in both directions from Twin Bridges to Meyers.  
The CHP advised motorists to "know before you go," and check road conditions before traveling. 
On this eighth day of spring, and with no end in sight for the winter-like stormy conditions, Caltrans warned, "Winter isn't over yet! Be prepared for difficult driving conditions."  
This story was reported from Oakland, Calif.