Leaked video shows Warriors' Draymond Green punching his teammate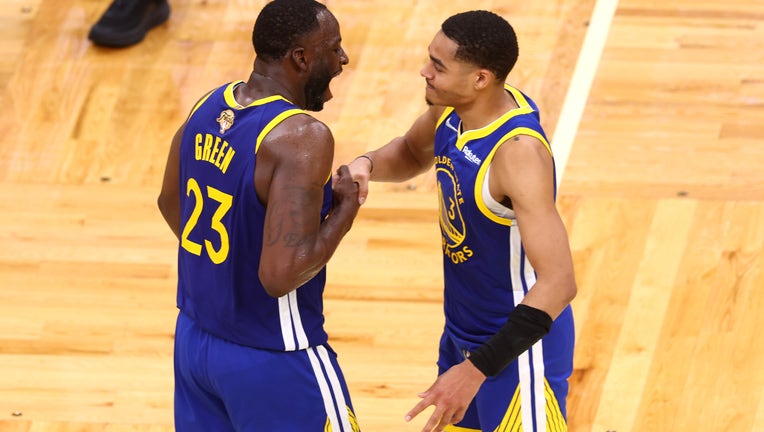 article
SAN FRANCISCO - New video, which was leaked to TMZ Sports, shows Golden State Warriors star Draymond Green punching his teammate Jordan Poole at practice earlier this week.
The Warriors said Friday it is taking every step necessary to investigate how the video was made public and obtained by TMZ.
It shows Green, wearing blue, getting into a confrontation with Poole, who is wearing a gray shirt. 
The two get right into each other's faces.
Poole then shoves Green, and then Green throws a powerful right-hand punch.
Players and coaches rushed in to separate the two.
"These things happen," said General Manager Bob Myers. "Nobody likes it. We don't condone it."
The Warriors said they will likely not suspend Green for the incident and any punishment will be kept private. 
Green apologized to the team and to Poole on Thursday and did not attend practice.
"He's been over that line. He always comes back," Myers said. "He's a unique guy and without him, we don't win. And I want to win. Our ownership wants to win. Our players want to win." 
But those comments are raising questions about accountability and special treatment.
Attorney Rebecca Speer, who has expertise in resolving workplace misconduct said both situational context and Green's actions should guide disciplinary decision making.
"This is where organizations and leaders fall into the trap of bending the rules," she said. "The question here is not how valuable of a basketball player this person is, but it's his behavior. Was did he do? Was it violent? Is there any excuse for it and what are the surrounding circumstances?"
There were reports that disputes between the two players had been brewing over the summer and surrounded their contractual situations. 
But Myers denied contract talk played into the incident and said he knew nothing more than it was normal bickering in a scrimmage.
Not knowing the video would be leaked and go viral, team leader Stephon Curry stressed the need to focus on the game but did weigh in on the incident.
"Sports is kind of a reflection of life," he said. "There's always things that come up that you don't foresee."