Livermore man dies in mobile home fire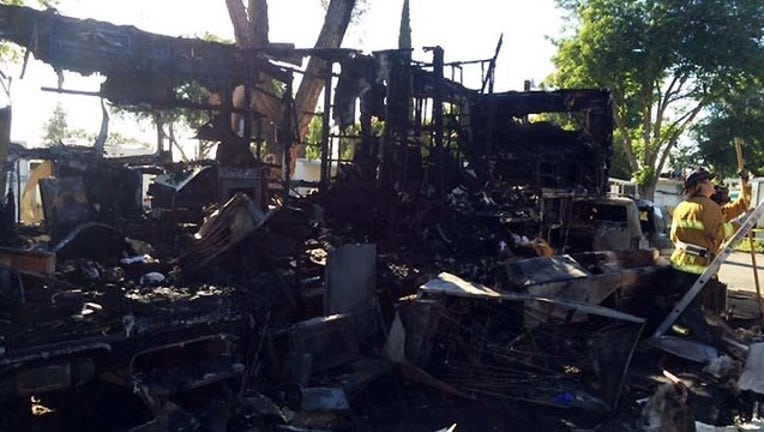 article
LIVERMORE, Calif. (KTVU and wires) -- A man who died in a burning mobile home in Livermore on Wednesday afternoon has been identified as 73-year-old Vernon Sweeney.
Sweeney was found after firefighters put out the blaze, which burned two trailers at a mobile home park at 6539 Southfront Road, according to the Alameda County coroner's bureau.
Several 911 callers reported the fire at 1:38 p.m., Livermore-Pleasanton fire Battalion Chief Michael Miller said. When
firefighters arrived, they found flames coming out of the windows and roof of one trailer and quickly spreading to the second trailer.
Bystanders told firefighters someone was still inside the engulfed trailer, but rescuers couldn't enter because of the intense heat, Miller said. They searched the second trailer but found no one inside.
The area was evacuated while firefighters extinguished the blaze.
It took only about 10 minutes to get the fire out, and Sweeney's body was discovered inside the destroyed trailer afterward.
Both trailers were left uninhabitable. A shed and several cars were also damaged. A man who lived in the second trailer was not home when the fire broke out and is staying with friends or family, Miller said.
It is unclear exactly how the fire started, but it appears to be accidental.
Livermore police and fire officials are investigating the cause of the blaze. Anyone with information about the fire has been asked to call police at (925) 371-4777.