Man arrested on suspicion of shooting on Cinco de Mayo
SAN JOSE, Calif. - A 32-year-old man has been arrested on suspicion of a shooting that injured someone on Cinco de Mayo earlier this year, police said Thursday.   
Juan Samarron, a Hollister resident, was identified by investigators as the suspect in a shooting shortly after 8:30 p.m. on May 5 on Southside Drive, according to San Jose police. A victim suffered a graze wound in the shooting.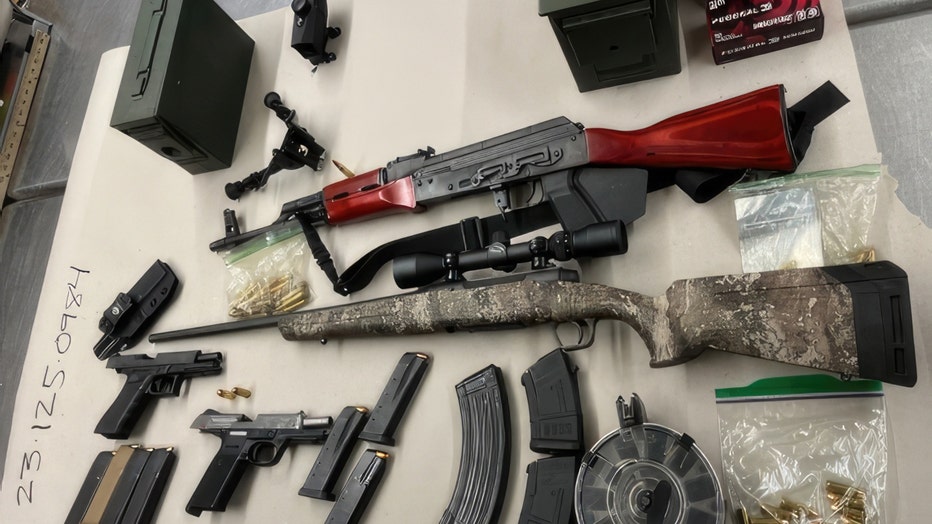 The San Jose Police Department Covert Response Unit (CRU) and patrol units arrested Juan Samarron, 32, of Hollister, Calif., on Nov. 7, 2023. Samarron is suspected of a May 5 non life-threatening shooting in San Jose. Police seized two semi-automatic
Police obtained a warrant for Samarron's arrest and a warrant to search his home and served them Tuesday in Hollister. Samarron was booked into Santa Clara County Jail on suspicion of assault with a deadly weapon and firearm-related offenses, while authorities seized two semi-automatic handguns, a bolt-action rifle and a semi-automatic rifle, police said.   
Anyone with information about the case or similar cases is asked to contact Det. Weber of the San Jose police gang investigations unit at 4313@sanjoseca.gov or (408) 537-3835.