Man shot in leg after confronting catalytic converter thieves in Castro Valley
CASTRO VALLEY, Calif. - A man trying to stop a catalytic converter theft in Castro Valley early Wednesday morning was shot during the confrontation.
The incident happened around 3:50 a.m. in the 4500 block of Sargent Avenue where officers found a man with two gunshot wounds to the leg.
He was taken to a local hospital and is expected to survive his injuries.
According to police, four thieves were trying to steal the man's catalytic convertor and shot him when confronted.
"After I heard him say, 'Get away from my car, get away from my car,' I stuck my head out the window and then that's when I heard the grinding," said Michelle Koehler, who lives nearby. "And then I heard about three shots fired, and then some guy screaming at the top of his lungs."
Alameda County sheriff's Lt. Ray Kelly said, "In this case, these criminals were very brazen and decided to shoot our homeowner, shot him twice in the leg." Deputies applied a tourniquet to his leg.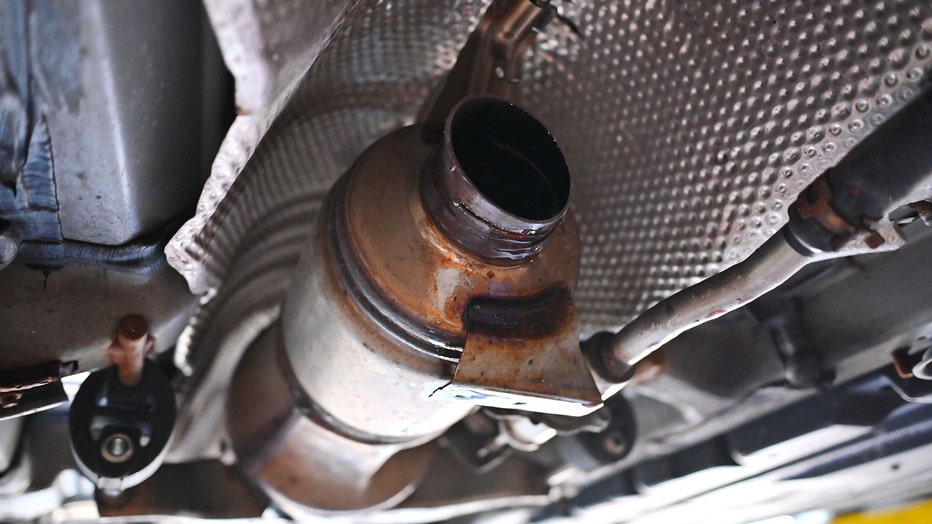 The underside of a Toyota Prius where a catalytic converter was stolen by thieves, at an auto repair shop in Lincoln Park on Aug. 24, 2022. (Victor Hilitski/Chicago Tribune/Tribune News Service via Getty Images)
SEE ALSO: Man, 60, shot dead in Oakland while confronting catalytic-converter thieves
The suspects escaped in a silver 4-door sedan.
As the suspects fled the area, a patrol unit located a vehicle matching the description on Interstate 580 at 150th Avenue toward Oakland. The Deputy trailed the vehicle onto eastbound Highway 24 where he was eventually joined by California Highway Patrol.
Officers attempted to stop the vehicle, but the pursuit ensued when the driver failed to yield, authorities said.
The pursuit ended the Interstate 680 split as officers couldn't determine which way the vehicle went.
Officers were later notified of a solo vehicle collision in Walnut Creek at the intersection of Treat and Buskirk, where four suspects ran from the Infiniti G37.
The suspects are still at large.
Deputies took possession of the vehicle and found the trunk filled with cut catalytic converters.
Kelly recommended that people don't confront thieves directly.

"The best thing to do is to call 911 quietly, from inside your home," Kelly said. "Keep the lights off, look out the window, give our 911 operators a play by play of what's going on."