Man with BB gun shot and killed by Hayward police ID'd, body-cam footage released
HAYWARD, Calif. - Hayward police on Thursday released officer-worn body-camera footage from when officers fatally shot a man armed with a BB gun. 
The shooting happened on the evening of Sept. 6 at Foothill Boulevard and City Center Drive. Police said the footage had been withheld until now to preserve the integrity of the investigation.
Police initially said they received reports of a person brandishing a gun. However, it ended up being a BB gun. Witnesses who knew the man told KTVU the man shot and killed, who has now been identified as Antonio Lacunas-Escobar, 37, of Hayward, would sometimes carry a fake gun. 
When police held a news conference the day after the shooting, they said a witness said Escobar pointed a firearm in the direction of the officers. 
Police said a Safeway security guard told them a man matching Escobar's description was trying to steal items from the store. That's when they conducted a search, located Escobar and began to engage with him.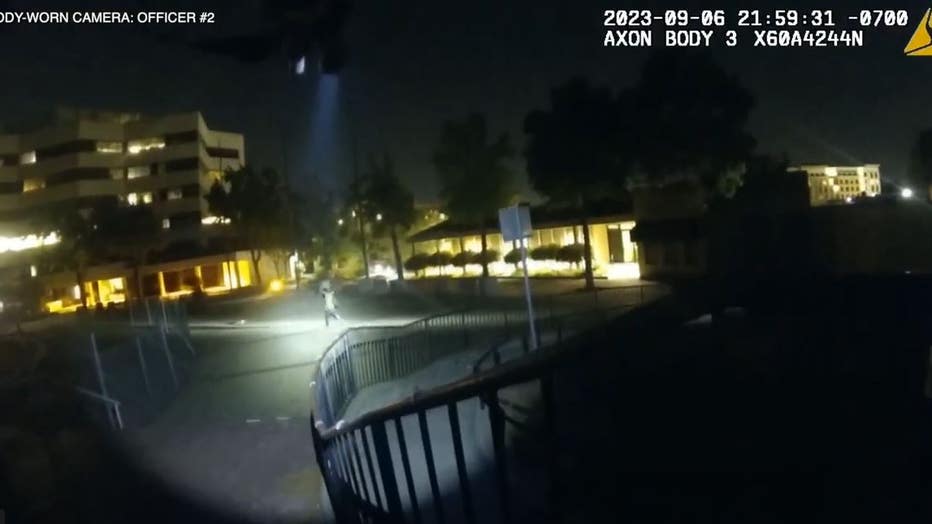 Hayward Police Department releases body-camera footage of officers fatally shooting a man armed with a BB gun. 
Two officers discharged their weapons in response to a perceived threat, Acting Police Chief Bryan Matthews said. In their video presentation of the shooting and in an updated news release, police said the suspect reached for what they thought was a pistol and pointed it in the direction of the officers. 
SEE ALSO: Hayward police fatally shoot man allegedly armed with BB gun
None of the footage police provided shows this moment clearly. Escobar appears to be walking away from police and is at a great distance. 
Video of multiple angles from the incident shows officers telling Escobar to not move and to "quit grabbing." They determine he is not complying. They open fire from a distance. Escobar was pronounced dead at the scene, according to police.  
KTVU has learned the names of the officers who shot and killed the suspect. They are Officer Alexander Robinson and Dominic Espino. 
Police said none of the officers involved were injured. The investigation into this fatal shooting is ongoing. An independent third-party consultant is part of that investigation. They will determine if the officers involved complied with the police department's policies. 
Alameda County District Attorney's Office is also conducting a criminal investigation of the officers' actions. The investigations will be referred California Department of Justice's Office of the Attorney General for review. The DOJ was notified immediately following the incident and advised they would not be responding to the scene, police said.