'Megaship' returning to Port of Oakland Thursday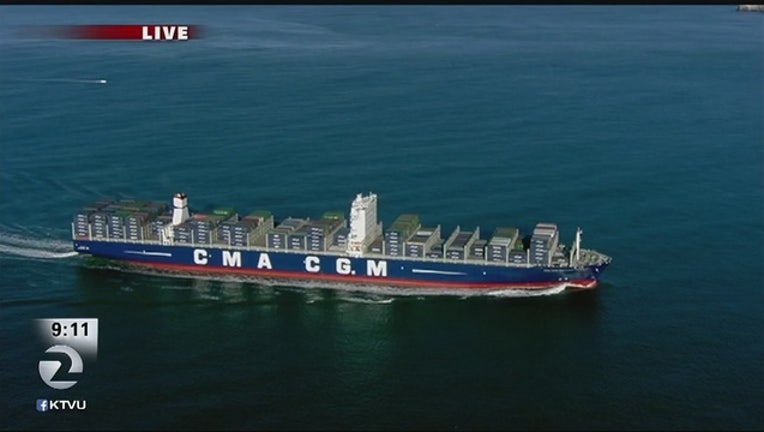 The largest container ship to ever berth in North America is making a return visit to the Port of Oakland on Thursday, port officials said.
   
The 1,310-foot-long CMA CGM Benjamin Franklin, capable of carrying up to 18,000 shipping containers, will dock at Berths 55-56 at Oakland's Middle Harbor at about 7 a.m., according to the port.
   
The first time the massive ship docked at the port in December, it drew onlookers from the Golden Gate to the harbor shores. The best viewing for Thursday's docking will be from the port's Middle Harbor Shoreline Park, port officials said.
   
The ship won't be coming back to the same terminal it did in December. That terminal, Ports America Outer Harbor Terminal, will be closing soon because the terminal operator is ending its operations in Oakland after filing for bankruptcy earlier this month.
   
Port officials hope to find a new tenant for the 208-acre facility shortly and are in the process of redirecting cargo to the port's other four terminals.
   
The port has worked for years and spent millions of dollars preparing for "megaships" like the Benjamin Franklin to be able to dock there, dredging shipping channels and raising cranes to accommodate the larger vessels.
   
While the ships have been common on routes between Asia and Europe for years, most North American ports lacked the capacity to take them on and required upgrades. East Coast ports have further challenges in receiving such large ships, including the limited width of the Panama Canal.
   
Operated by the Marseille, France-based shipping company CMA CGM, during its maiden voyage the Benjamin Franklin imported finished products such as beverages, furniture, glassware, plastics, electronics and steel products from China and left with a shipment of agricultural products like fruit, nuts and meat, as well as wood pulp and cereals.
   
It is expected to be a regular visitor to Oakland, hauling cargo between the West Coast, China and South Korea.
   
When it departs Oakland on Friday afternoon, the Benjamin Franklin will make its way to Seattle before returning to Asia, port officials said.
Early this afternoon a U.S. Customs and Border Protection (CBP) employee was examining an envelope at our office in Alameda when the employee reported feeling ill. CBP personnel called 911 and fire department officials evacuated the building as a precaution. It is unknown at this time if the employee's illness is a result of opening the envelop. More information will be provided as it becomes available.