Senate GOP leader Mitch McConnell remains in hospital after concussion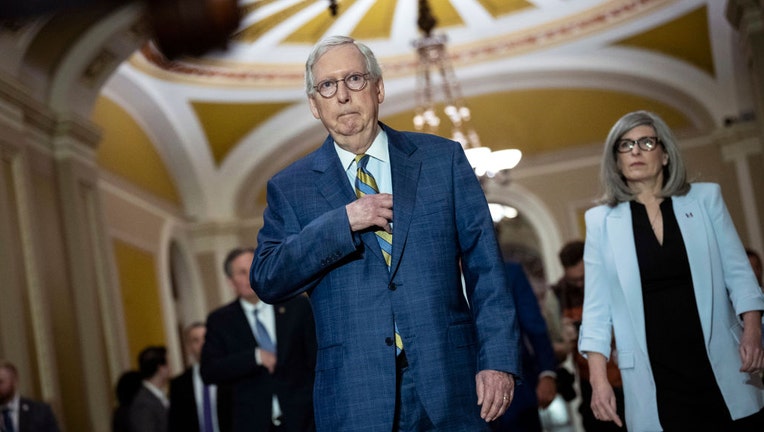 article
WASHINGTON - Senate Republican leader Mitch McConnell suffered a concussion after a fall at a local hotel and remains hospitalized "for a few days of observation and treatment," a spokesman said Thursday.
The Kentucky senator, 81, was at a Wednesday evening dinner for the Senate Leadership Fund, a campaign committee aligned with him, when he tripped and fell. The dinner was at the Waldorf Astoria Washington DC, formerly the Trump International Hotel, Washington D.C.
Spokesman David Popp said McConnell is being treated for a concussion and "is grateful to the medical professionals for their care and to his colleagues for their warm wishes." McConnell's office did not provide additional detail on his condition or how long he may be absent from the Senate.
President Joe Biden tweeted that he wishes McConnell a "speedy recovery" and looks forward to seeing him back on the Senate floor.
South Dakota Sen. John Thune, the No. 2 Republican, told reporters earlier on Thursday that he had not spoken to McConnell. He said he was at the dinner and McConnell had delivered remarks "as usual."
"Evidently it happened later in the evening," said Thune, who had moved on to another reception underway at the hotel and did not see McConnell fall.
Concussions can be serious injuries and take time for recovery. Many professional sporting associations have focused on the dangers of repetitive head injuries. Even a single incident of concussion can limit a person's abilities as they recover.
In 2019, the GOP leader tripped and fell at his home in Kentucky, suffering a shoulder fracture. At the time, he underwent surgery to repair the fracture in his shoulder. The Senate had just started a summer recess, and he worked from home for some weeks as he recovered.
First elected in 1984, McConnell in January became the longest-serving Senate leader when the new Congress convened, breaking the previous record of 16 years.
The taciturn McConnell is often reluctant to discuss his private life. But at the start of the COVID-19 crisis he opened up about his early childhood experience fighting polio. He described how his mother insisted that he stay off his feet as a toddler and worked with him through a determined physical therapy regime. He has acknowledged some difficulty in adulthood climbing stairs.
Senate Majority Leader Chuck Schumer, D-N.Y., said on the Senate floor Thursday morning that he had called McConnell and spoken with his staff "to extend my prayers and well wishes."
"I joined every single one of my colleagues in wishing Leader McConnell a speedy and full recovery," Schumer said.
The Senate, where the average age is 65, has been without several members recently due to illness.
Sen. John Fetterman, D-Pa., 53, who suffered a stroke during his campaign last year, was expected to remain out for some weeks as he received care for clinical depression. And Sen. Dianne Feinstein, D-Calif., 89, said last week that she had been hospitalized to be treated for shingles.
The Democratic absences have proven a challenge for Schumer, who is already navigating a very narrow 51-49 majority.
The Republicans, as the minority party, have had an easier time with intermittent absences. It is unclear if McConnell will be out on Thursday and if that would have an effect on scheduled votes.