Mozilla is exploring a $5-per-month rival to Apple News+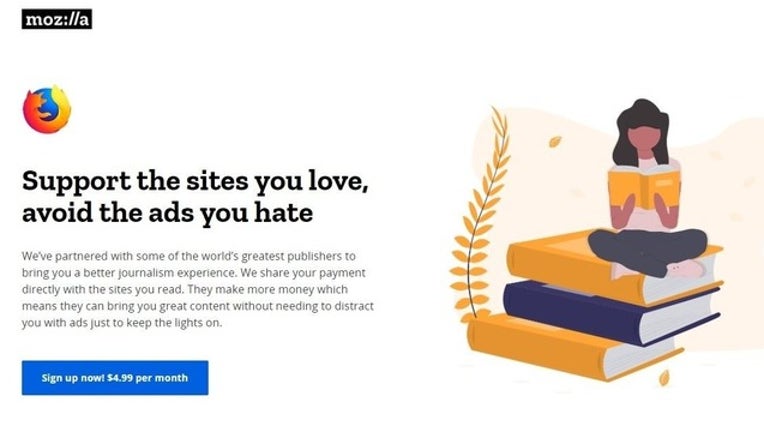 San Jose, Calif. (KTVU) - Mozilla is exploring the launch of a $5 a month ad-free news subscription service, which would undercut the recently launched Apple News+ service by half. 
A first-look page hosted by the Mountain View-based software company teases the $5 monthly subscription price, with a pitch centered around avoiding web advertisements. "We share your payment directly with the sites you read. They make more money which means they can bring you great content without needing to distract you with ads just to keep the lights on," the webpage says. The sign-up button leads to a survey which wants to gauge consumer interest for the service.
The app won't be the only gateway to ad-free content. Mozilla is promising a service that "works everywhere you find articles" on your desktop and mobile, no matter where you discover the content you want to read. The service will offer access to audio versions of articles, cross-device bookmarking, and recommended reads through a dedicated app. So you can catch up on an article that you read half-way on your laptop and resume on your phone, or switch to audio while driving your car.  
Mozilla had been testing interest for this service in February 2019, much before the launch of Apple News+ judging by a blog post written by Firefox product lead Peter Dolanjski. Scroll, a news subscription startup is mentioned as one of the potential partners for this project. Scroll has a partner network that includes the likes of Slate, The Atlantic, Vox, USA Today, Buzzfeed News, and The Verge, among others. 
The ad-free subscription offering seems like a natural fit for Mozilla, which blocks ad-tracking and browser fingerprinting scripts on the Firefox browser. However, it remains to be seen if consumers will pay $5 a month to be free of ad-trackers. The past few years have a trend of publishers including anti-ad-blocking scripts asking users to turn off their ad-blockers if they want to read articles. Meanwhile Apple News+, which launched in March 2019 has had a lukewarm start, with publishers underwhelmed by the revenue made by the service, according a recent news report by Business Insider.