Mudslides continue to plague Highway 17 traffic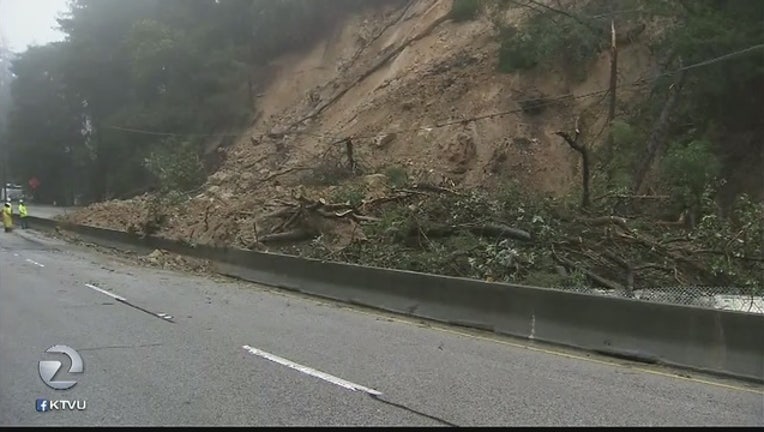 article
SANTA CRUZ MOUNTAINS, Calif. (KTVU) - The problems continue on Highway 17 in the Santa Cruz Mountains.
Caltrans says a hillside, just south of Glenwood Drive, gave way Monday. That dropped mud all over the roadway.
Caltrans officials say there are now cracks in the pavement there. They say that could mean the stability of the highway itself is threatened.
Caltrans says it will be able to fix the problem. But it can't start that work until after the next series of storms passes and the ground dries out a little.
For now, there is only one lane of Highway 17 open in each direction between Scotts Valley and the Santa Cruz/Santa Clara County line.
This comes amid other problems on Highway 17. A mudslide last week caused major traffic problems. 
The mudslide initially occurred Feb. 6 when mud blocked all lanes of northbound 17 near Vine Hill Road.
A black truck was pushed over the median when the mud entered the roadway. The driver was not injured, according to the CHP. 
Highway 17 was initially completely closed down. One lane in each direction in the southbound lanes later opened.  
A worker trying to clear the mudslide was fatally hit by a vehicle alongside the roadway several days later. He was identified as 54-year-old Bobby Gill of Los Banos.
Meanwhile, time is running out for a work crew repairing part of Highway 37 in Novato that has already flooded three times this year.
With rain expected late Wednesday into early Thursday morning, crews are working 24-hours a day to raise the road bed.
Highway 37, between Interstate 101 and Atherton Avenue, has been closed since February 9th.
There may be detours for a while. It's a low-lying area that's prone to flooding, with marshes on both sides of the highway.

Highway 37 is an important connector for commuters between Sonoma and Marin counties, Mare Island and Vallejo.